15 Flowering of Rafflesia arnoldii in West Sumatra in 2022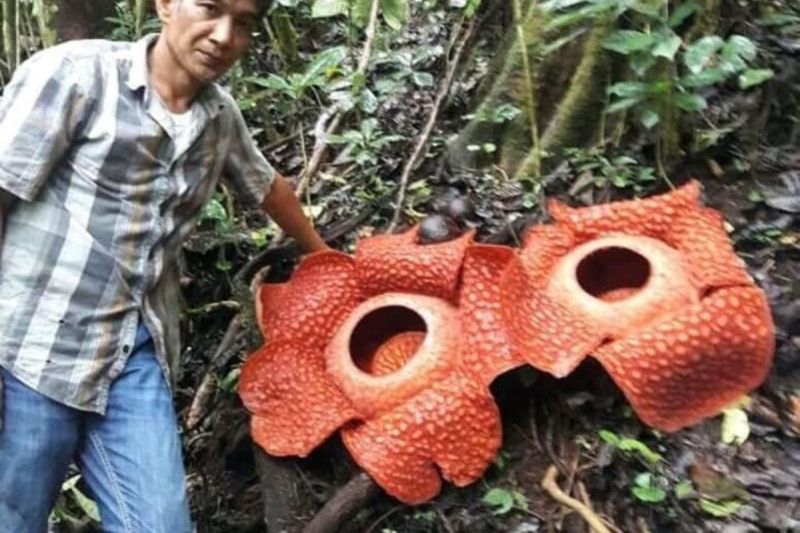 Lubukbasung, West Sumatra (ANTARA) – At least 15 Rafflesia arnoldii flowers bloomed in the forested area of ​​Batang Palupuh Nature Reserve, Agam district, West Sumatra, between January and March 14 this year.
Rafflesia arnoldii, also known as corpse flowers, have been blooming for the past three months, and seven flowers bloomed simultaneously 15 days ago, Batang Palupuh tour guide Joni Hartono told Lubukbasung on Monday. .
"Currently there is a perfect blooming Rafflesia flower," he added.
In Batang Palupuh, he said, there are still many Rafflesia flowers that are expected to bloom again in the coming months.
Batang Palupuh is a destination for foreign tourists who want to take a close look at the Corpse Flowers, as they are protected by the Natural Resources and Ecosystems Conservation Law No. 5 of 1990.
However, since the COVID-19 pandemic, foreign tourist visits have declined and visitors have been limited to foreign tourists domiciled in Indonesia.
"Currently, most of the visits are from domestic and foreign tourists who have resided in Indonesia, but the number is not very high," Hartono informed.
Meanwhile, Maninjau natural resources conservation officer Ade Putra said his team will try to re-record the flower data in the Batang Palupuh nature reserve area.
Initially, his team will collect data on the flower population of Rafflesia arnoldii over an area of ​​3.4 hectares.
Related News: Rare flowers bloom in the remote Agam region of West Sumatra
"We will record the number of populations and distributions to monitor the development (of flowers), their growth and when they bloom," Putra said.
In Agam alone, there are 14 Rafflesia flower distribution points distributed among Palupuh, Tanjung Raya, Matur, Palembayan, Baso, Malalak, Kamang Magek and Tilatang Kamang.
Overall, in West Sumatra, there are 36 places where the flowers are distributed, covering 14 districts/cities: Agam, Limapuluh Kota, Solok, Pesisir Selatan, Solok Selatan, Pasaman, West Pasaman, the city of Padang, Padang Panjang, among others.
Related News: EARTH WIRE – Crowds gather to witness Rafflesia flowers bloom