Australian association 'Let's Help Bali' helps locals during pandemic
Most of us barely deal with COVID-19 in Australia, so it takes a special someone to devote their time to helping others in neighboring countries.
This week's Honey Hero is Amanda Rialdi from Let's help Bali.
Amanda is a stay-at-home mom who lives in Bali with her photographer husband and four-year-old son.
RELATED LINK: Honey Heroes: How Robyn Helps Locked Out Elderly Care Residents
When COVID hit, she knew the virus would be brutal, but the loss of tourism dollars would bring Indonesians to their knees.
"I couldn't sleep for two days wondering what I could do, and finally at 2 am I got an idea of ​​how to help," she says.
"I know a lot of people in Bali live day to day on their wages. 'Work today, eat today' is a common theme here. Everyone was so scared of COVID and wanted me to stay in touch. house and be safe, but I just couldn't do it. I was willing to take the risk if it meant someone wasn't starving. "
Eighteen months ago, she started with a simple goal of 100 hot meals and water, costing around $ 1.50 each.
"The very first day we distributed over 400 meals, in a month, it was around 5,000 meals. Since last year, we have now helped over 750,000 people, "she said.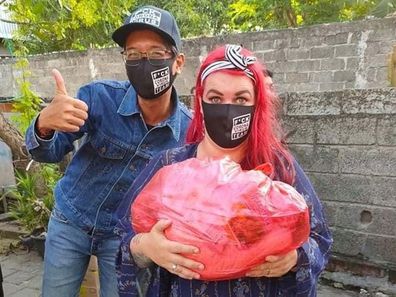 Now she's focused on the weekly food packs that cost $ 13.50 each.
"My vision has always been that no one should go hungry these days. Now we are focused on helping people across Bali not to suffer anyway, we have provided food packages, medical assistance such as wheelchairs. drugs and drugs, as well as mental health needs / assessments, "she said.
RELATED: 'Honey Hero' hosts Zoom parties for underprivileged children in lockdown.
For an idea that came to Amanda at 2am, the statistics are impressive.
In just 18 months, Let's Help Bali built five houses, connected more than 250 families with sponsors and distributed over 7.5 million kilos of rice.
She collaborated with another foundation, Yayasan, and built a small school for children with cerebral palsy and Down syndrome.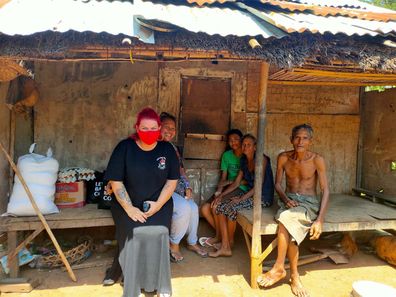 Some extremely painful moments led to joy.
"I found a baby in a village. He was four months old and was severely malnourished. He actually weighed 2 kg when we met him, I thought he was going to die, I immediately treated him, more a food / milk godfather, he is now eight months old, 10 kg and a big healthy package, "says Amanda.
"I cried when I saw him for the first time, I never thought he would be okay and several times his mother told me that I saved his life, and I can't just not believe that it was me who helped him regain good health and that he will now grow up and see the world. "
RELATED: Sikh volunteers serve hot meals to Melbourne residents in need
Another story was just as heartbreaking; an extremely poor family where the father had died and the mother of eight children already had five deceased children. The other three children have mental health issues and severe kidney problems.
"This lady is a super woman, and it just tore my heart out that she was in so bad pain and also caring for three children with special needs, I just couldn't imagine it." , Amanda said.
"When we met them their house was covered in mold, rats were nesting in their mattresses and crawling on them at night, it was horrible. So I just renovated their house and replaced almost all the furniture and the room. bedding. The difference we have made to her life and the lives of her children is overwhelming. "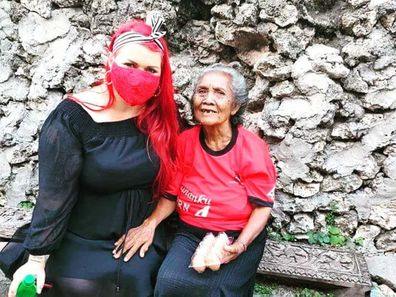 Amanda has now found her passion and her life's work and wants to continue the charitable work after the pandemic has passed.
"My plans for the foundation once some normalcy returns is to continue helping people with special needs and educating them about mental health issues," she says.
"There is a huge lack of education here and disabled people fall through the cracks. I want to give hope to these people and their families that the world is still fine, that a disability is not something. thing to fear.
"When someone asks me what Let's Help Bali do? My answer is always, 'We are saving lives.'
Let's Help Bali is a registered charity – you can donate by contacting their Facebook page or Instagram page.
For a daily dose of 9Honey, Subscribe to our newsletter here.