Bali expels 5 Moldovans and 1 Russian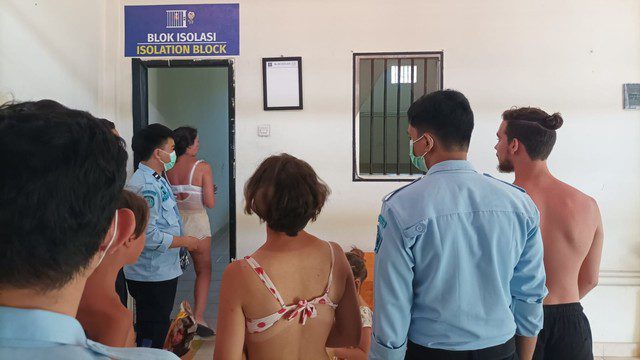 Six foreign nationals from Russia and Moldova are deported from Indonesia after their somewhat bizarre decision to illegally occupy the Villa and red salt hutson Jalan Munduk Kedungu Nomor 29, in Pererenan.
The six strangers boldly entered the villa, proclaiming the accommodation a "gift from God".
RadarBali.comon Saturday, March 26, 2022, identified the six only by their initials as DD (44, Moldova), AD (24, Russia), EE (31, Moldova), EE (35, Moldova), AE (5, Moldova), DM (10, Moldova).
The six reportedly entered the villa at 1am on Saturday. At 7:00 a.m., the owners became aware of the uninvited foreign guests who had entered their villa when they discovered that the group had damaged the front door to gain access.
The villa's owner and community representative from the village of Pererenan confronted the group of strangers, who boldly responded by proclaiming that they "owned" the villa, which had been given to them as a gift from God. Stunned by the proclamation, the owner immediately contacted immigration authorities and other law enforcement agencies.
The leader of the Bali Office of the Ministry of Justice and Human Rights, Jamaruli Manihuruk, said on Friday April 08, 2022 that a team of immigration officers and other officers came to the scene to personally meet the group of 4 adults and 2 children. Foreign nationals were asked to present their valid passports and visas, but were unable to do so and even refused to explain their country of origin.
The six foreigners were then escorted by immigration officers along with police and Badung Regency Enforcement Officers to Denpasar Immigrant Detention Center. RadarBali.com reports that some members of the group attempted to fight with the police during the transfer.
On arrival at Detention center, officials searched all six and discovered three full passports and one additional passport in partially burned condition.
Jamaruli revealed that the five Moldovans were members of a family staying in Indonesia on a visitor's visa. The Russian bachelor held a limited residence permit (ITAS) issued for an investor.
The Moldovans have spoken with their embassy in Tokyo and the Russians with the Russian embassy in Jakarta to allow the deportation process to move forward.
Immigration authorities have the right to deport any foreigner found guilty of breaking the law or disturbing public order.