Bali receives 60 tonnes of rice from Financial Services Authority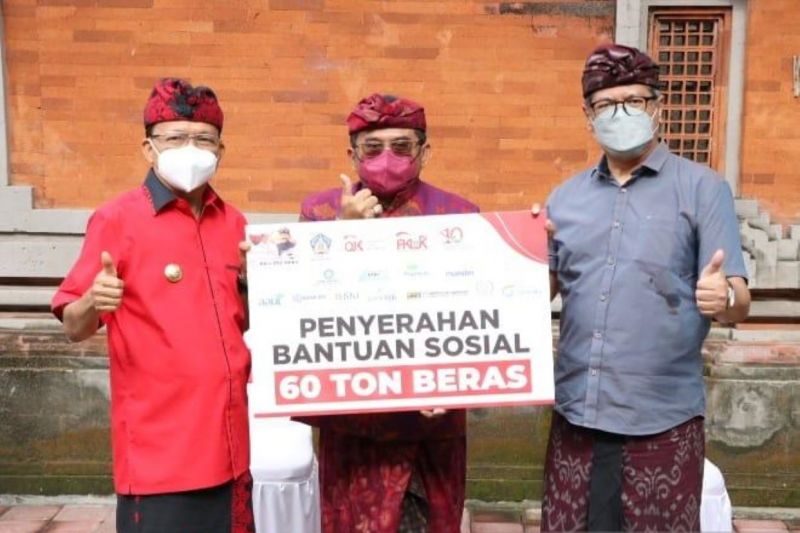 Denpasar (ANTARA) – Bali Governor Wayan Koster received 60 tonnes of rice from the Bali-Nusa Tenggara Regional Financial Services Authority and the Bali Financial Services Institutions Communication Forum (FKLJK).
"This rice aid will later be delivered directly to village or traditional village chiefs throughout Bali to be handed over to every resident in the area," Koster said upon receiving aid from the Bali Financial Services Authority. in Denpasar Thursday.
He felt that even the smallest aid, especially rice, which is a staple food for the community, is very meaningful and helpful amid the protracted COVID-19 pandemic.
He said his administration appreciates the Financial Services Authority and other financial institutions for actively helping the Balinese people who are going through difficult times due to the COVID-19 pandemic, which has not ended so far. .
Koster also praised the solidarity shown by a number of businessmen, leaders of financial institutions and party leaders, as well as leaders of organizations, who used their resources to collect donations and l help for the people of Bali.
Related News: Indonesian OJK Launches Food Action Program
The governor also reminded the public to avoid exposure to COVID-19 as Bali prepares to reopen flights and tourism.
"Even though (COVID-19 cases) are on the decline, I ask all people in Bali to continue to follow health protocols, including the use of masks that are good and as recommended, especially when they are outside the house, "he said. .
Meanwhile, Giri Tribroto, head of Regional 8 Bali and Nusa Tenggara Financial Services Authority, said during the COVID-19 pandemic, his agency was actively involved in activities to boost economic recovery in Bali.
"The credit restructuring program in Bali has been well implemented by all industries so far," he said at the aid distribution event, which was also attended by the member of the Commission XI of the House of Representatives, I Gusti Agung Rai Wirajaya.
The Financial Services Authority has also been actively involved in helping local governments in Bali to implement immunization programs for the general public, pregnant women, students and people with disabilities, said Tribroto. More than 27,000 people in Bali have been assisted in the vaccination process, he added.
The Financial Services Authority, along with other financial services players in Bali, carried out several relief activities, he said. They included the distribution of basic necessities and 7 tons of rice with Pegadaian during a vaccination event in Klungkung district, the distribution of basic necessities and 10 tons of rice with AAUI, BPD Bali and Perbarindo during vaccination events in three sub-districts of Buleleng district. , he informed.
Apart from this, he also provided assistance for the rehabilitation of learning facilities at Gurukula Bangli Pasraman, provided free life insurance for all new students of Hindu State University I Gusti Bagus Sugriwa, a he declared. On Friday, October 8, 2021, the Financial Services Authority will organize a convalescent blood donation activity at its premises, he added.
Related news: BI, OJK and ministry organize vaccination of financial services employees
Related News: Easing Mobility Restrictions Will Boost Credit Distribution: OJK