BNPB vaccinates Lombok residents ahead of Mandalika MotoGP event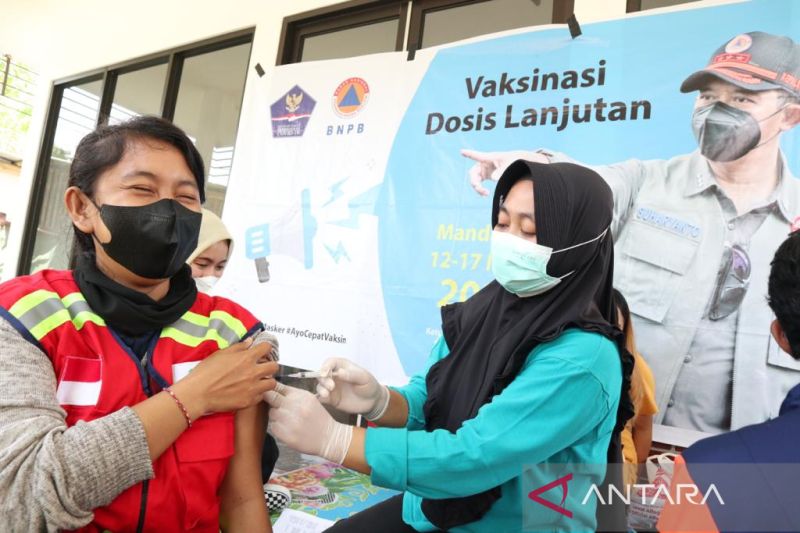 Jakarta (ANTARA) – The National Disaster Mitigation Agency (BNPB) is conducting simultaneous vaccination against COVID-19 in Lombok, West Nusa Tenggara, from March 12-17 ahead of the Mandalika MotoGP event to anticipate the arrival of foreign and national tourists.
In a statement received here on Sunday, BNPB Chief Lt. Gen. Suharyanto said the activity was aimed at protecting the people, especially the people of Lombok Island, from the threat of COVID-19.
This activity follows the directives of President Joko Widodo to accelerate vaccination, including for the third booster dose. The effort is being led ahead of the Mandalika MotoGP which will take place from March 18-20, 2022.
The program consists of a static vaccination booth and a mobile vaccination booth, so people away from a static vaccination booth do not need to travel to the site. The team of vaccinators will visit people in several predetermined villages.
No less than 50 vaccinators are divided into ten teams, which were dispatched from the main site of Mandalika Hospital, Pujut sub-district, central Lombok. Each of the teams is made up of five members and is accompanied by the authorities of each village to secure the event as well as gather the people to be vaccinated.
Related News: Lombok Central Police Step Up Vaccinations Ahead of MotoGP
Vaccines including the first, second, third or booster vaccines are administered to 80 people from each village.
The vaccine brands are Pfizer, Moderna and AstraZeneca. Vaccinated persons will also be registered in the PeduliLindungi app and will receive a digital certificate.
The program has received a positive response from people, both visiting tourists and local tourism service providers.
"Thank you. Thanks to this vaccination program, I don't have to worry and I can trade here. I hope that with the vaccine, I will always be healthy," said Nurmiyati, the one of the tour service providers in Kuta Mandalika Beach area.
The agency, the COVID-19 Task Force and the West Nusa Tenggara Provincial Government will also distribute masks on March 15, 2022.
The mask distribution program is part of the central government's efforts to promote safe tourism as well as preparation for the 2022 MotoGP event.
Related News: Government provides mobile vaccination for Mandalika MotoGP success