C Java's GT Kalikangkung ready to handle Eid traffic : JSB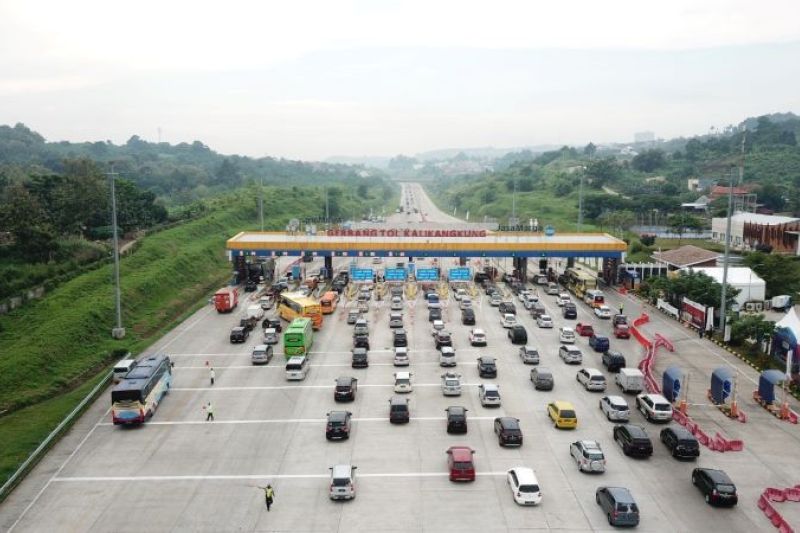 Jakarta (ANTARA) – PT Jasamarga Semarang Batang (JSB), a subsidiary of national road operator PT Jasa Marga, has assured that the Kalikangkung (GT) toll gate is ready to handle Eid exodus traffic and the return flow.
PT JSB Chief Executive Officer Prajudi said the company has prepared several measures to deal with the increased traffic volume, especially at GT Kalikangkung.
"(It involved) Providing the functions of seven Transaction Substations and seven Oblique Approach Cabins (OABs) at the Exit Substations and four Transaction Substations and four OABs operating at the Substations entry stations," he informed here on Friday.
For the implementation of the one-way traffic pattern, PT JSB has prepared 10 transaction substations, seven OABs and four mobile readers (MRs), he said.
In addition to the equipment, operational officers have also been deployed at toll gates to handle possible obstacles at the time of transactions, he added.
Related News: Eid: 577,000 vehicles leave Jakarta via airport from April 22-28
Prajudi also provided details on the maintenance of toll equipment from the tenth to the fourth day before Eid, when traffic spiked.
"With proper maintenance of toll equipment and the addition of standby operational officers, all GT Kalikangkung facilities and infrastructure are running smoothly and optimally. If there are any obstacles during the transaction, our officers will be ready to help so that the flow of return traffic can go smoothly," he explained.
From April 22 to 27, 2022, at least 195,214 vehicles departed for Semarang through the Kalikangkung toll, an increase of 36.5 percent from the normal traffic recorded in 2021, which was pegged at 142,997 vehicles.
Considering the high volume of traffic arriving from the West region to Central Java, PT JSB has prepared measures to support smooth transaction services, especially in GT Kalikangkung.
Related News: National Police Assess Traffic Engineering for Eid Exodus