COVID-19 cases outside Java and Bali islands still low: minister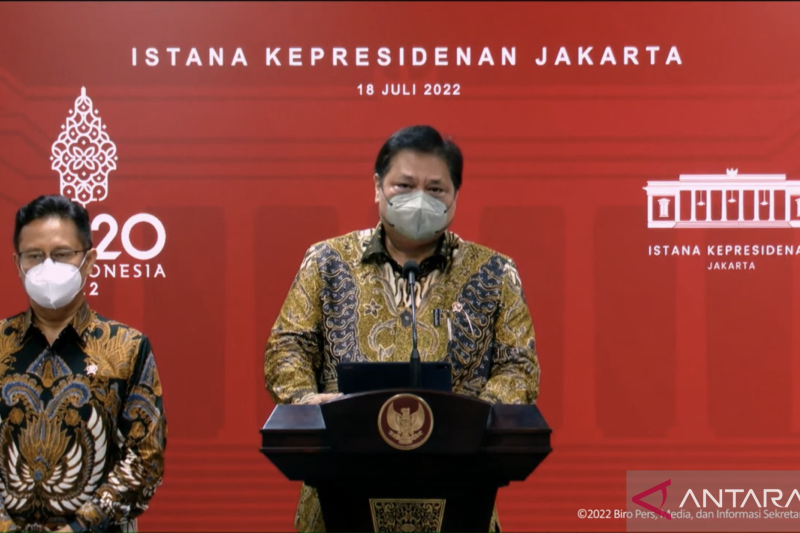 Jakarta (ANTARA) – COVID-19 cases continue to decline outside the islands of Java and Bali, Coordinating Minister for Economic Affairs Airlangga Hartarto informed during a limited press conference on the assessment of restrictions community activities, accessed here Monday.
"For cases outside of Java and Bali, they are still low and declining. Active cases are in North Sumatra, South Kalimantan, East Kalimantan, South Sumatra, South Sulawesi and Central Kalimantan," he said.
The largest increase in cases is still seen in the islands of Java and Bali, which account for nearly 95% of total national cases, Hartarto added.
The community transmission rate has reached eight per 25 people per 100,000 nationwide.
"So according to the levels (established by) the WHO (World Health Organization), we are still at level 1. The standard is 20 per 100,000," the minister informed.
The effective reproduction rate has relatively decreased over the past three weeks: from 1.27 to 1.26, before reaching 1.24. During this time, the effective reproduction rate on each island is greater than 1.
Outside the islands of Java and Bali, Sumatra recorded an effective reproduction rate of 1.29, followed by East Nusa Tenggara, Kalimantan and Sulawesi at 1.8 each, and Maluku at 1.08.
"Then, apart from the islands of Java and Bali, the product transmission which started to increase was in Palangkaraya in Central Kalimantan, and others from 385 districts and cities are still at level 1, both from Bed occupancy and isolation rates are still at adequate levels," he added.
Related News: Booster vaccine needed as travel requirement amid rising cases
As for the results of the assessment of restrictions on community activities outside the islands of Java and Bali, they have been maintained at Level 1, as previously defined, and the restrictions will remain in place until the end of July. However, an exception has been made for Sorong, West Papua, which has been placed at Tier 2.
Nationwide, the number of COVID-19 cases in Indonesia is considered low. Based on the seven-day moving average, a number of countries have seen a fairly rapid increase in cases, such as the United States with 134,000 cases, Australia with 40,000 cases, India with 18,000 cases , France with 90,000 cases, Singapore with 9,000 cases and Indonesia with 3,240 cases.
Regarding the vaccination rate, the regions that still have less than 70% coverage apart from the islands of Java and Bali are West Papua and Papua. As for the second dose, 10 provinces continued to register a vaccination rate of less than 70%. Meanwhile, booster vaccination coverage in 28 provinces has been set at less than 30%.
Related news: Recall to be made mandatory in two weeks: Minister