Customs and Excise win the war on drugs in Kalimantan and Sumatra – Inforial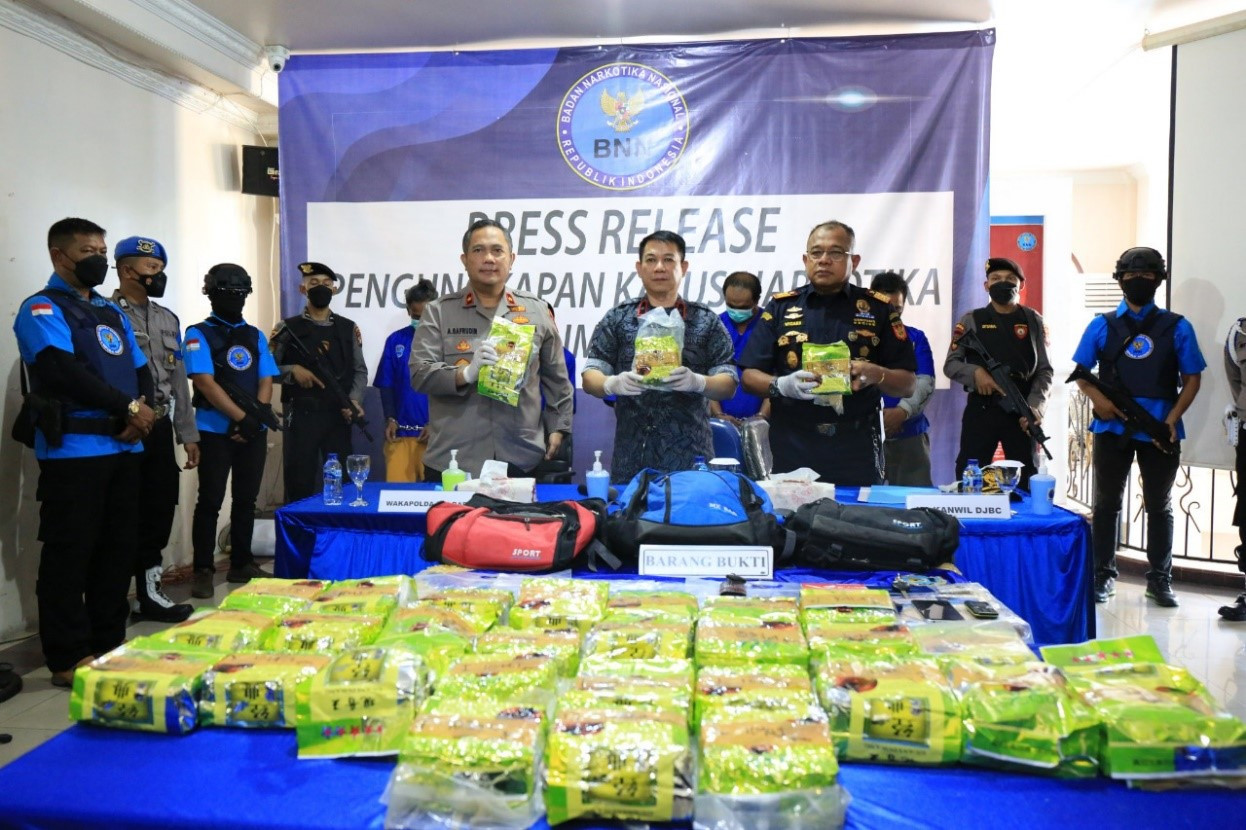 Inforial (The Jakarta Post)
Jakarta ●
Fri, June 10, 2022

2022-06-10
17:11
0
e16ff64e7ecc29b4174149122321ca57
4
Tooltip

Free

The General Directorate of Customs and Excise has continuously cooperated with the National Narcotics Agency (BNN) to uncover illegal drug distribution efforts across the country. More recently, they successfully thwarted smuggling schemes in West Kalimantan and Kualanamu in North Sumatra.
The West Kalimantan Customs and Excise Board and the West Kalimantan Provincial Narcotics Agency (BNNP) held a joint press briefing on the cases on Tuesday.
West Kalimantan BNNP Chief Brig. General Budi Wibowo explained that the alleged drug dealers tried to smuggle methamphetamines from Paloh district, Sambas regency to Pontianak using four-wheeled vehicles. Authorities were able to arrest six people involved in the scheme and confiscate 31 kilograms of narcotics as evidence, with a total value of around Rp 9.3 billion (USD 638,505).
"Through this action, the Customs and Excise Bureau is trying to rescue approximately 124,792 people in West Kalimantan from the abuse of this type of methamphetamine," said Hatta Wardhana, Head of Public Relations and Counseling Sub-Directorate customs officer.
Meanwhile, in Medan, North Sumatra, the Kualanamu Customs and Excise Office, together with the North Sumatra BNNP, successfully stopped the smuggling of methamphetamines, seizing 34,000 grams during two different attempts to transport the drugs to another province via courier services. An investigation by the BNNP North Sumatra team revealed that another package was already in the cargo warehouse at Kualanamu International Airport.
Hatta explained that measures have been taken against the shipment of illegal substances to various places in Indonesia, such as Mataram in West Nusa Tenggara, Tangerang in Banten, Palembang in South Sumatra, Surabaya in East Java and North Bogor in West Java.
"Based on the follow-up surveillance results of May 31, Kualanamu Customs and Excise Office, North Sumatra Customs and Excise Office and North Sumatra BNNP successfully secured three suspects. The results of the investigation led to 24 packets of methamphetamine weighing 24,000 grams," Hatta said.
"We are ready to coordinate agencies to save more lives from the dangers of drugs."
He added that the three agencies had saved the lives of some 340,000 people from drug addiction.