Dalang Bocah Festival Held to Commemorate World Wayang Day 2022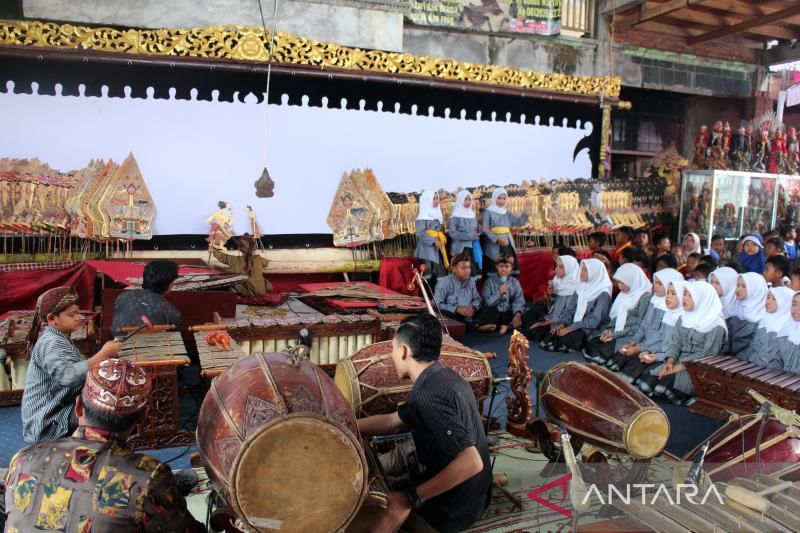 We hope that with this Dalang Bocah festival, wayang art will be more loved and stay in the heart of the community.
Boyolali, Central Java (ANTARA) – Several kindergarten and primary school students from various parts of Java Island participated in the 2022 Dalang Bocah (Child Shadow Puppet Masters) Festival held in Boyolali, Central Java. Java, to commemorate World Wayang 2022 (Shadow Puppet) Day.
"We hope that with this Dalang Bocah festival, wayang art will be more loved and stay in the hearts of the community," SKWL Nusantara art studio director Ki Gondo Wartoyo noted here on Saturday.
Dalang Bocah Festival 2022 was held to present wayang kulit, or a shadow puppet theatre, to the community, especially children.
Wartoyo said the Dalang Bocah festival brought together 23 young students from Central Java, Yogyakarta and East Java.
Related News: Ministry issues circular on Bali airport operational during G20 summit
Meanwhile, festival attendees came from Boyolali, Pati, Semarang, Surakarta (Central Java), Gunung Kidul (Yogyakarta) and Pacitan and Madiun (East Java).
The festival is held on November 5 and 6 to commemorate World Wayang Day on November 7.
During the festival, each child puppeteer had a maximum of 35 minutes to play their piece.
A child puppeteer, Ki Kondang Kalimosodo from SKWL Nusantara, performed at the opening, along with the traditional music ensemble gamelan, where the players were also young schoolchildren.
Six-year-old Jasin Mustofa Selin, a participant from Segawuh Karangdowo village in Klaten, Central Java, said he liked wayang kulit and aspires to become a famous puppeteer.
Related News: G20 Presidency 2022 absorbs 33,000 workers in Indonesia: Ministry
He learned to play the puppet at an early age from his mother, a puppet player. kendanga traditional two-headed drum, which usually joins the performance of Ki Dalang Tikno by Klaten.
Meanwhile, Boyolali Education and Culture Bureau Chief Darmanto voiced his support for the implementation of the Dalang Bocah festival.
"I am proud that the children love the noble cultural heritage of wayang kulit. Wayang kulit is amazing, there are elements of music, dance, story and entertainment, while it also contains messages, advice and education for children," he said.
The festival was preceded by a parade of 35 meter-tall puppets and a delivery of aid to orphans.
Related News: Ministry to showcase Indonesian halal products at G20 summit
Related News: Frequency of flights from China to Indonesia increases ahead of G20 summit