Deaf Indonesian boy who saved Malaysians in Lombok earthquake hailed as hero – National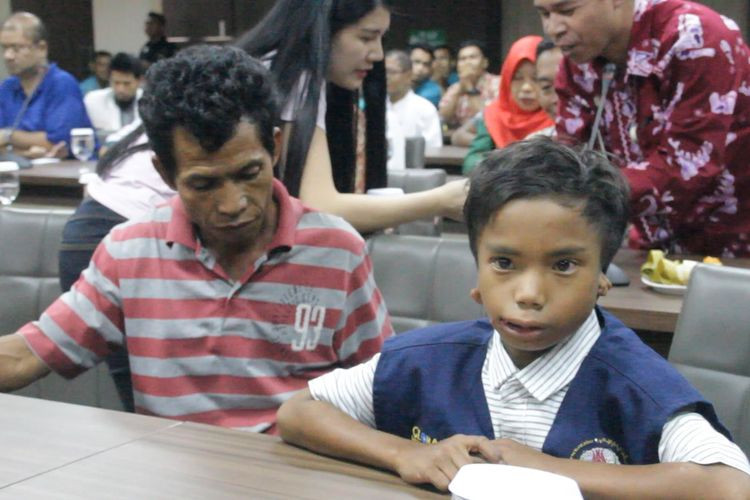 News Office (The Jakarta Post)
Jakarta ●
Sat 23 March 2019

2019-03-23
14:22
849
dcc1aefb9780f102b77c720ee8361a3e
1
national
Lombok, Malaysia, tourists, earthquake, Taufik, hero, handicap, deaf
Release

The Global Peace Mission (GPM) in Malaysia has announced plans to name a disabled 7-year-old boy from Lombok Island, western Nusa Tenggara, a hero for helping foreign tourists evacuate the area when an earthquake recently shook the island.
Taufik, a deaf and mute boy from Senaru village, North Lombok regency, helped Malaysian tourists find a route out of Tiu Kelep waterfall when a magnitude 5.4 earthquake struck and triggered landslides on Sunday.
"Insya Allah [God willing] we will name it […] a symbol of heroism and bravery for saving their lives when they needed help the most, "said GPM Malaysia operations director Syahrir Azfar bin Saleh on Thursday as quoted by Antara.
The earthquake caused landslides in the regency, killing at least two Malaysians and injuring more than 30, most of whom were foreign and domestic tourists.
Wong Siew Lim, a Malaysian woman who suffered minor arm injuries, said Taufik had helped her and other tourists evacuate the area safely after landslides triggered by the earthquake performed around the waterfall during their visits.
"While being transported, Taufik helped us by showing the exit of the location [of the waterfall]She said, adding that she was very grateful to the boy.
Syahrir said the GPM is working to gain the support of the Kingdom of Malaysia so that the boy can be named a hero in Malaysia. The boy's heroic story would also be told to the royal family, he added.
"We also want to create an opportunity for [Taufik] live a normal life. Maybe we can take Taufik to Malaysia, "he said, adding that the MPG would endeavor to provide medical assistance to Taufik.
The organization would also tell Malaysians not to be afraid to visit Lombok, Syahrir said.