Fatal incident at an Indonesian geothermal power plant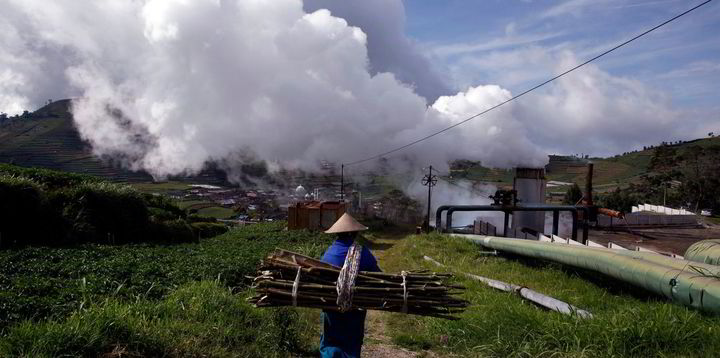 A worker has died and at least 10 others injured after inhaling toxic gases at Geo Dipa Energi's (GDE) Dieng Geothermal Project in Central Java, Indonesia.
State-owned geothermal company GDE, which operates the plant, said gas leaked while employees were checking a relief valve in preparation for drilling on well pad number 28.
"One person was killed and five others are in intensive care at Wonosobo Hospital following the incident. The management and staff of Geo Dipa express their deepest condolences for this accident. Geo Dipa will also be responsible for all casualties. "said EDG Secretary General Endang Iswandini, quoted by the Jakarta Post.
"The cause will be determined by an investigation by the [Ministry of Energy and Mineral Resources'] renewable energy inspector. Early information shows the cause was an equipment malfunction," she said.
Endang pointed out that there was no blowout while drilling a well but there was a release of toxic gas when a worker checked a relief valve on a mud pump. He added that all standard security procedures were in place at the time of the incident.
Activists are now urging regulators to better enforce safe working practices at geothermal power plants after the suspected leak of hydrogen sulfide at the project killed and injured employees on Saturday.
The article continues below the ad
Ki Bagus Hadi Kusuma, an activist with the environmental group Mining Advocacy Network (Jatam), called on the government to stop all geothermal projects in Indonesia, assess existing and planned geothermal work areas and form an independent team comprising the National Commission human rights, experts and civil society groups to investigate accidents in the projects.
Indonesia has more than 60 geothermal work areas. Rich in geothermal resources, the republic is targeting a total of 3.35 gigawatts of geothermal power generation capacity by 2030, according to its long-term electricity supply plan.
Jacobs to help increase production capacity
US engineering services company Jacobs was appointed in February by GDE as an underground project management consultant for the planned expansion of its Dieng and Patuha geothermal power plants in Java.
The project will increase power generation from the Dieng and Patuha geothermal fields from 110 megawatts to 220 MW and help expand renewable energy generation to support Indonesia's transition to a cleaner energy future.
Jacobs will undertake a geoscientific study of the geothermal resource, including a review of the conceptual reservoir model and development strategy, well targeting, geological prognostics and well scheduling, and development of the well development strategy. drilling and drilling risk mitigation. The contractor will also provide technical knowledge on the use of geothermal resources and build on lessons learned from previous drilling campaigns at Dieng and Patuha.
"Jacobs has a proven track record of successfully delivering geothermal development projects in Indonesia as well as around the world over the past 40 years," said Jacobs Managing Director Keith Lawson.
"This project is a great opportunity for us to continue to support GDE in harnessing Indonesia's geothermal resources to create a cleaner, more sustainable and efficient energy future and help attract additional investment in the geothermal sector in Indonesia. ."
The power plants are the first geothermal projects financed by the Asian Development Bank under a direct loan program. The project will provide employment opportunities for local communities, renewable electricity to the Java-Bali grid and reduce carbon emissions by more than 700,000 tonnes per year compared to fossil fuel power generation.
"This is a strategic project that can help meet the population's clean energy needs. It will have a positive impact on social and economic aspects, especially for the surrounding areas," said the president and director. General of the GDE, Riki Firmandha Ibrahim.
"This is a good opportunity for Jacobs to play an important role in driving positive change in Indonesia."