Five dead in a collision between a bus and a train in Tulungagung, East Java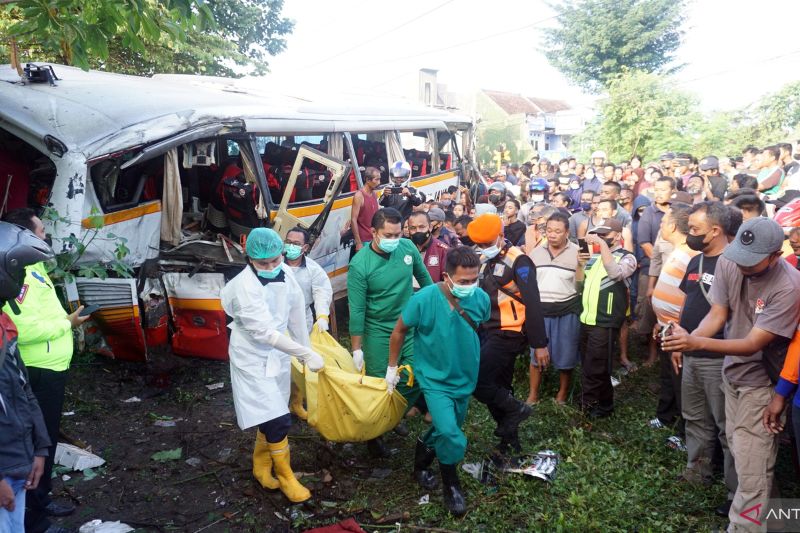 Tulungagung, East Java (ANTARA) – Five people have been killed and 13 others injured after a tourist bus heading towards Malang, East Java province, was hit by a Rapih Dhoho train at a gateless level crossing in the Ketanon village, Tulungagung district, early in the morning. Sunday.
Four passengers who were seated in the back of the bus died at the scene, while one victim died at Dr. Iskak Hospital, Tulungagung Deputy Police Chief Handono Subiakto said.
The Harapan Jaya tourist bus was hit from behind by the Rapih Dhoho train traveling from Tulungagung station to Kediri, while the bus carrying 43 people attempted to cross the level crossing which has no gate.
Subiakto said the crash happened around 5 a.m. Western Indonesia Standard Time (WIB).
Related News: Seven people killed in car-train collision in Tasikmalaya
The ill-fated bus, along with two other Harapan Jaya tourist buses, were ferrying workers from a plastics store to Malang for recreation at the Jatim Park 5 tourist attraction.
The first bus passed the level crossing safely. However, the second bus as it tried to cross the tracks was hit from behind by the train coming from the south at moderate speed, he said.
"It is suspected that the driver of the second bus lacked concentration when crossing the tracks, so the train hit the tail of the bus," the officer said.
Related News: Seven people killed after train hits their car in Cibitung: police