Foot-and-mouth disease begins to affect buffaloes and goats in C Lombok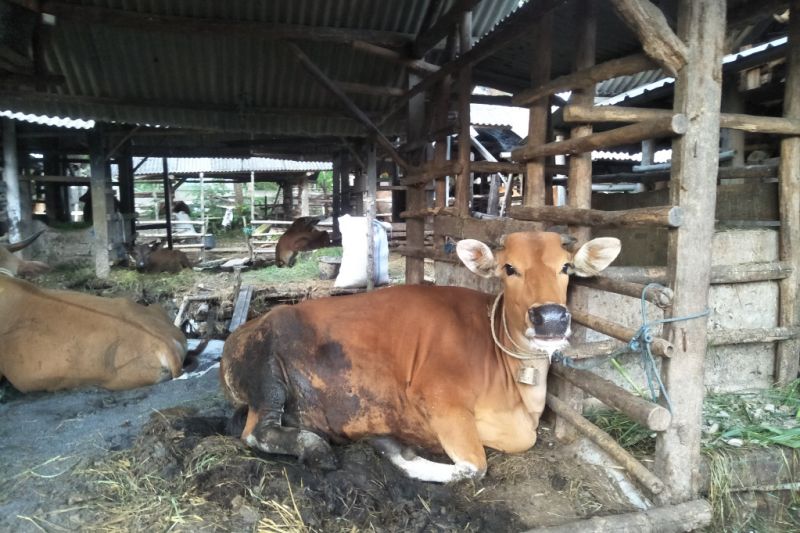 Central Lombok, West Nusa Teng (ANTARA) – Apart from cattle, Foot and Mouth Disease (FMD) also started affecting buffaloes and goats in Central Lombok, West Nusa Tenggara ahead of Eid al-Adha, according to the local government.
"Currently, the farm animals that have been infected with foot-and-mouth disease are cattle, buffaloes and goats," Lombok Central Agriculture Bureau chief Lalu Taufikurahman said on Friday.
Based on the latest data from the foot-and-mouth task force, the number of cattle infected with foot-and-mouth disease has reached 10,995, he said. However, about 50 percent or 5,442 head of cattle have recovered.
Meanwhile, the number of infected buffaloes has reached 112, of which 61 have recovered. As for goats, the number of infected animals reached 60 and 16 recovered.
Thus, the total number of farm animals infected with foot-and-mouth disease reached 11,167, of which 5,519 recovered.
The disease has now spread to 102 of the 139 villages in central Lombok, he noted. As part of anticipatory measures against the disease, the local government has closed all animal markets until June 20, according to a letter released recently.
"The animal market is still closed at the moment," Taufikurahman said.
Although the foot-and-mouth outbreak has continued to spread, the availability of animals for the Islamic ritual of Qurbani (animal sacrifice) in central Lombok is still safe, he said.
"We have encouraged Qurbani animal contractors to open kiosks to sell animals by implementing FMD health protocols to ensure farm animals that will be used for Qurbani remain healthy," he said. he informed.
Earlier on Tuesday, June 14, 2022, the government started nationwide vaccination against foot and mouth disease for livestock in Sidoarjo district, East Java.
Vaccines are given priority for healthy animals at high risk of infection, i.e. animals in breeding centres, community dairy farms, dairy cooperatives and beef cattle farms.
The Ministry of Agriculture has planned that 17 million head of cattle will receive the vaccine, about 80% of the livestock of the provinces affected by the disease. Cattle will be inoculated three times: twice in 2022 and once in 2023.