Foot-and-mouth outbreak: Government closes all livestock markets in central Lombok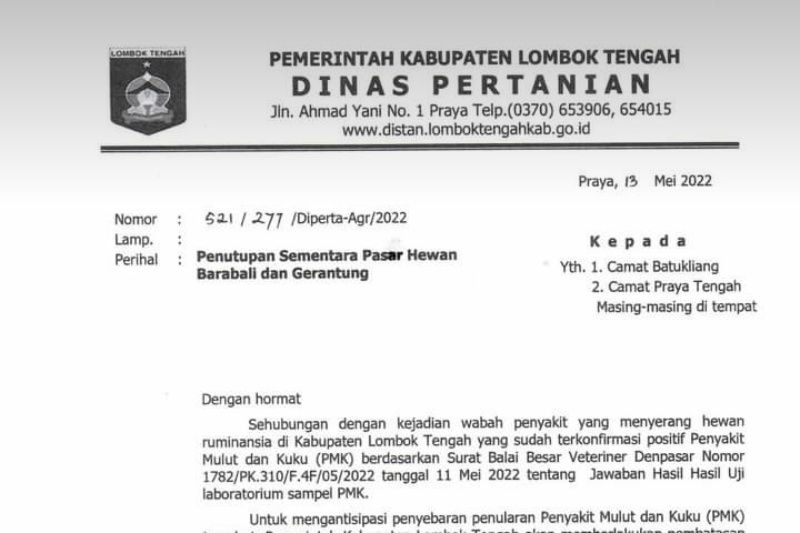 We are closing (these places) for the good of the community, so as not to lose money
Praya, West Nusa Tenggara (ANTARA) – The Lombok Central District government has announced the temporary closure of all livestock markets to stem the spread of Foot and Mouth Disease (FMD), which has affected hundreds of cows in the area.
"We are closing (these places) for the good of the community, so as not to lose money," Lombok Central District Chief Lalu Pathul Bahri said on Monday.
Apart from closing cattle markets in Barebali and Batunyale villages, the district government has also restricted the inter-island movement of cows, including from Sumbawa, as an additional measure to prevent the spread of the disease.
"Cows from Sumbawa Island are not allowed to (be sent here)," Bahri said.
As the measures were taken for the greater good of the people, the government expects everyone to support them, he added.
Related News: Yogyakarta seeks to prevent transmission of foot-and-mouth disease to livestock
Meanwhile, the head of Lombok Central District Agriculture and Livestock Services Bureau, Lalu Taufikurahman, said that with animals confirmed positive for foot-and-mouth disease in tests carried out by the Denpasar laboratory Bali, the regional government will limit livestock movements by closing all livestock markets.
The market closure will be effective from May 14 to June 4, 2022, he said.
The regional government is working to prevent the spread of the disease by treating all affected cattle, spraying disinfectants for sterilization and boosting cattle immunity.
"Of the hundreds of cows that were affected, none died. We urge the public not to panic," Taufikurahman said.
Hundreds of cattle in the central district of Lombok have tested positive for foot-and-mouth disease, similar to that recorded in East Java province.
Related News: Tangerang Forms Livestock Foot and Mouth Disease Task Force

"The Central Bureau of Agriculture and Livestock in Lombok received the results of the samples which were sent to the laboratory in Denpasar. The results came back positive for foot-and-mouth disease, which causes infections in the oral cavity" , Taufikurahman informed Praya.
The disease has so far spread in two sub-districts: Sixty-three head of cattle were initially infected in Kelebuh village, central Praya sub-district. The number of affected cattle rose to 150 after the infection spread to Puyung and Barejulat villages in Jonggat sub-district.
"The symptoms experienced are almost the same, so the cattle population is suspected of foot-and-mouth disease," he said.
Related News: NTB halts livestock trade from outer regions against foot and mouth disease transmission
Related News: Government Acts Quickly to Prevent Outbreak of Foot and Mouth Disease in Central Java EDITED BY INE