Holidaying in Gili Trawangan "Party Island" of Lombok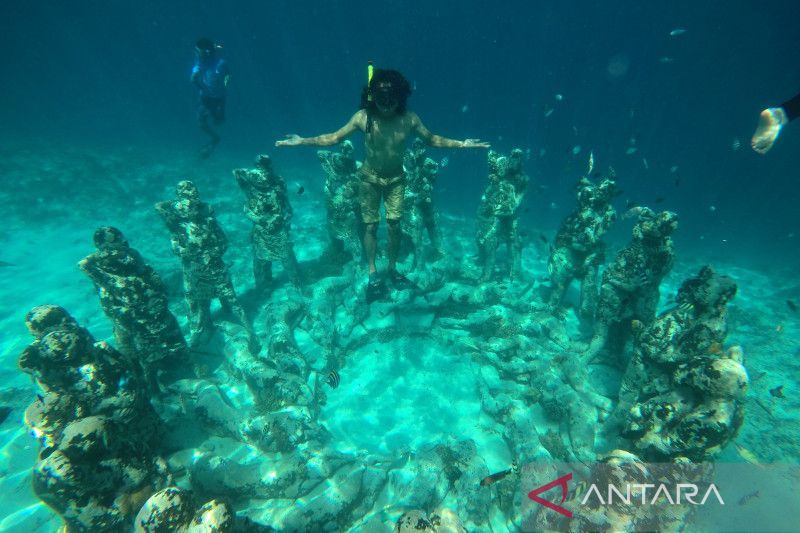 Gili Trawangan Island in West Nusa Tenggara (NTB) Province is one of three islands northwest of Lombok Island in NTB Province, which is known as of the party" in the Lombok region.
It is located approximately 51.5 kilometers (km) from Lombok International Airport. It takes about one hour and 50 minutes to reach the tourist destination.
However, due to the COVID-19 pandemic, most hotels in the area had not held concerts due to a significant drop in tourist numbers.
Fortunately, tourism activities have slowly resumed recently in line with various easing travel regulations for foreign and domestic travelers.
Thus, several hotels on the island have started to organize parties again.
Besides partying, people can indulge in various activities on the island, such as riding a bicycle or horse-drawn carriage.
The sightseeing tour takes around 15 minutes around three sunset viewing points – Pinkcoco, Malibu and Ombak Sunset points – the best time to enjoy the sunset being around 6pm Central Indonesia Standard Time (WITA ).
Related News: Sweetening the livelihoods of Rantau Atas villagers with honey
Visitors can rent a bicycle for around Rp 25,000 (USD 1.73) for three hours. Usually they rent the bikes around 5-8pm WITA to look for the sunset.
Meanwhile, the cost of hiring the horse-drawn carriage (locally called 'cidomo') is Rp 250,000 (USD 17.31). The vehicles can be found near the port of Gili Trawangan.
Tourists can also ride the wave at several surf spots around the island of Gili Trawangan. The best time to conduct the activity is between August and November.
Also, tourists can enjoy snorkeling and visit two other islands – Gili Meno and Gili Air – at the Gili Islands.
Gili Meno is a destination, with underwater beauty, which is preserved by local residents. Therefore, it is a popular attraction for honeymooners.
Meanwhile, the closest island to Lombok Island, Gili Air, is perfect for a day visit.
For snorkeling around the islands, visitors can book directly at snorkeling gear rental locations or through a snorkeling guide.
Abdul Karim, who has run a snorkeling business for 10 years, recommended three spots for snorkeling: The Romantic Statue, Turtle Point, and Meno Wall on Gili Meno Island.
Related News: City tour along historic buildings in Jember
At the romantic statue spot, visitors can see several underwater couple statues arranged in a circle. They were built about 12 years ago.
Meanwhile, at Turtle Point, or Turtle Heaven, tourists can swim with aquatic animals and admire the Meno Wall – an underwater cliff with a depth of three to four meters.
"We often check current conditions and water color at snorkeling sites. We put the client's safety first. If the place is safe, we will snorkel there" , said Karim.
The best time to dive is around 8-9am WITA. However, some tourists prefer to snorkel while enjoying the sunset around 6-7 PM WITA as long as the weather permits.
If visitors wish to participate in a private snorkeling activity conducted by eight to nine participants, they will need to pay at least 1.2 million rupees (83.09 USD) to rent a speedboat with a capacity of 25 people .
Meanwhile, if the activity is conducted in a large group with other tour groups, each participant will be charged Rp 100,000 (USD 6.92), with a minimum rental period of four hours.
It includes the cost of snorkeling equipment rental, including a life jacket, flippers and snorkel mask.
Related news: Baduy women cultivate for tradition, loyalty
Calculation of the holiday budget
It turns out that vacationing on the island of Gili Trawangan requires a lot of money.
Prangga Aditya Sandi, 25, a local tour guide, said the cost is so high that most visitors are foreigners.
"I think the number of local tourists is only 20% (of the total number of visitors). Gili Trawangan Island is one of the (most) expensive islands (to spend a holiday)," he said. -he declares. ANTARA.
So, how much should you spend to go on holiday on the island of Gili Trawangan?
To get to Gili Trawangan Island from Lombok Island, people must first travel to Nare Bay.
Leaving for the bay from Lombok International Airport using an online car rental service will cost the tourist around Rp268,000 to Rp300,000 ($18.56 to $20.77).
Meanwhile, tourists coming with a large group can hire a car, which seats 18 people, for Rp2 million to Rp3 million (US$138.49 to US$207.73).
The journey will take about an hour and a half.
From Nare Bay, visitors must cross to Gili Trawangan Island using a speedboat, with a capacity of around 10 passengers, which can be hired for Rp 1.5 million (USD 103.86) .
Alternatively, if they don't want to rent it, they can pay Rp 350,000 (US$24.24) for each person.
However, they must make a reservation at least three days before their arrival date.
The ferry service operates from 9 a.m. to 10 p.m. WITA. It takes about 20 minutes to get to Gili Trawangan Island.
Fortunately, there is an alternative backpacker-style route through the island of Bali. One of the benefits of using the route is that visitors bring a rented motorbike to the island of Bali.
Therefore, Sandi noted that most foreign tourists choose the route.
It will take visitors about two hours to get to Padangbai Port, Karangasem District, Bali Province from Ngurah Rai International Airport, Badung District, Bali Province.
They need to spend around Rp 381,000 to Rp 430,000 ($26.38 to $29.77) to use an online car rental service from the airport to the port.
From Padangbai Port, tourists will have to undertake a four-hour journey to Bangsal Port on Gili Trawangan Island by ferry. The trip costs Rp 125,000 (USD 8.66) per person.
Related News: Meet Waisimon, Protector of Cenderawasih and Forests
Alternatively, tourists can hire a speedboat from Bali Island for Rp 200,000 (USD 13.85) per person, and the trip will take around an hour.
Meanwhile, when it comes to accommodation, people can choose between homestays and five-star hotels.
Sandi said the most expensive homestay costs Rp200,000 (US$13.85), while the price of hotels varies depending on the choice of visitors.
People are recommended to spend about three days and two nights to enjoy the beauty of Gili Trawangan Island.
However, if they also wish to visit two other islands, they should spend around four days and four nights.
"Therefore, the required budget is around Rp 2 million (USD 138.49). However, it does not include accommodation and transportation costs. If you include accommodation costs, they can be around Rp3.5-4 million (US$242.35 US$276.97)," Sandi added.
Related news: Youth 20 to strengthen the role of young people in digital transformation
Related News: Indonesia and Canada Exchange Notes on G20 Presidency and Conflict in Ukraine