Imperial Birthday: Kempinski February 23-25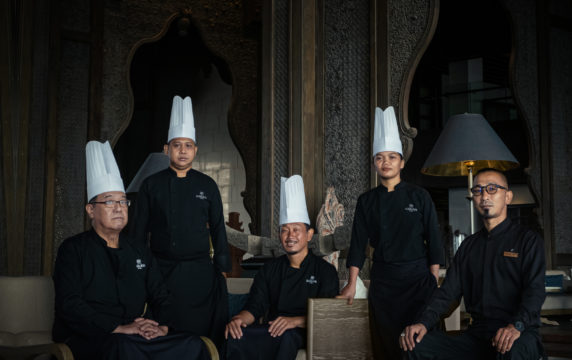 The Japanese place of Apurva Kempinski Bali Izakaya by OKU presents a collaborative culinary effort by three exceptional chefs to honor and celebrate the birthday of Her Imperial Majesty Naruhito from February 23-25, 2022.
The Emperor of Japan will turn 62 on February 23, 2022. Following the abdication of his father, Emperor Naruhito ascended the chrysanthemum throne May 01, 2019.
A triad of outstanding Japanese culinary experts will come together to honor the Japanese Emperor. Chef Hashimoto Soji and Chef Hatanaka Hirotake, two Japanese chefs, will join forces at the Izakaya by Oku for this special occasion. The famous Japanese bartender, Nishi Yuji, will join them for this two-day event.
Longtime residents of Bali, the three men will showcase Japanese home cooking that will be unabashedly authentic and unchanged to address a nebulous misconception of "international taste preferences."
Commenting on the upcoming event, Vincent Guironnet, Managing Director of The Apurva Kempinski Bali, said, "We are truly thrilled to be working with such extraordinary talent. Apurva Kempinski Bali is always looking for new ways to provide innovative experiences for our discerning guests while giving local talent a platform to showcase their skills. As Japanese natives, their in-depth knowledge of Japanese cuisine will add a sense of authenticity to every creation presented, and we believe this will give our guests a deeper appreciation of Japanese cuisine.
In collaboration with the talented chefs of Izakaya by OKU, a team led by Chef Budi and Chef Komang, the culinary stars of the two-day event, will curate a three-course experience, with paired Japanese cocktails, to create an immersive dining experience.
This event will give guests the chance to sample beloved homemade Japanese cuisine presented in the luxurious ambience of Izakaya by OKU. The restaurant offers a bistro-chic setting and an interactive dining experience with an open kitchen, where customers and chefs can interact.
"As part of the Unity in Diversity campaign, we are truly honored to work with these talented chefs. It's a good opportunity for everyone to experience and take the journey alongside them," commented Chef Budi.
The Special Celebration of the Japanese Emperor the menu is available from Rp. 500,000 net per person.
For more information and reservations, please call +62 81138 209541 or email Izakaya by Oku Restaurant.
Related links
Izakaya by Oku restaurant website