Indonesia adds 16,110 new cases of COVID-19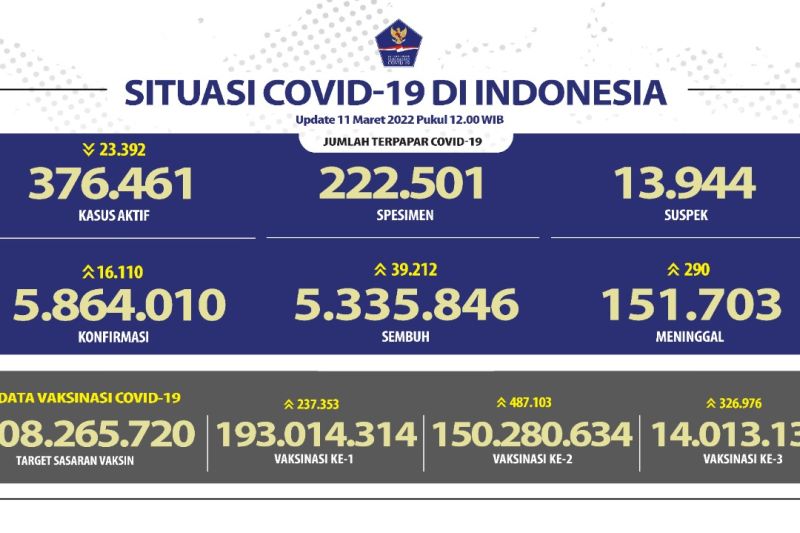 Jakarta (ANTARA) – The number of COVID-19 positive cases in Indonesia rose by 16,110 on Friday, bringing the total number of cases to 5,864,010, the COVID-19 Management Task Force said.
According to data received by ANTARA here on Friday, the regions that recorded the most cases were West Java, with 3,750 cases; Jakarta, with 2,548; Central Java, with 1,721 cases; East Java, with 1,394 cases; and Banten, with 892 cases.
The number of active cases decreased by 23,392, bringing the total number of active cases to 376,461.
Meanwhile, the number of recoveries continues to rise, with 39,212 people recovering from the virus on Friday, bringing the total number of recoveries to 5,335,846 nationwide.
Regions with the most recoveries on Friday include West Java, with 11,984 recoveries; Jakarta, 5,600 recoveries; Central Java, 3,079 recoveries; East Java, 2,507 healings; and Banten, 2,107 recoveries.
Related news: Indonesia ponders pandemic towards endemic change
Data from the task force recorded that as many as 290 people succumbed to COVID-19 on Friday. Thus, the total death toll reached 151,703.
The 290 deaths included 93 deaths recorded in Central Java, 41 in East Java, 28 in West Java, 18 in North Sumatra and 15 in Yogyakarta.
In addition, no less than 13,944 suspected cases have been identified, while the number of samples tested has reached 222,501.
The government's spokesperson for the management of COVID-19, Reisa Broto Asmoro, reminded the public to continue to comply with health protocols to prevent the transmission of new variants of COVID-19.
Asmoro said strict health protocols and vaccinations are still part of efforts to save lives amid the pandemic.
"Don't be negligent, don't slack off, continue to apply (health protocols) strictly so that any new variant that emerges cannot enter the community, spread quickly and take more lives," he said. she points out.
Related News: Several Regions Outside Java-Bali Surpassed Omicron Peak: Minister