Ministry detects 91 cases of mysterious acute hepatitis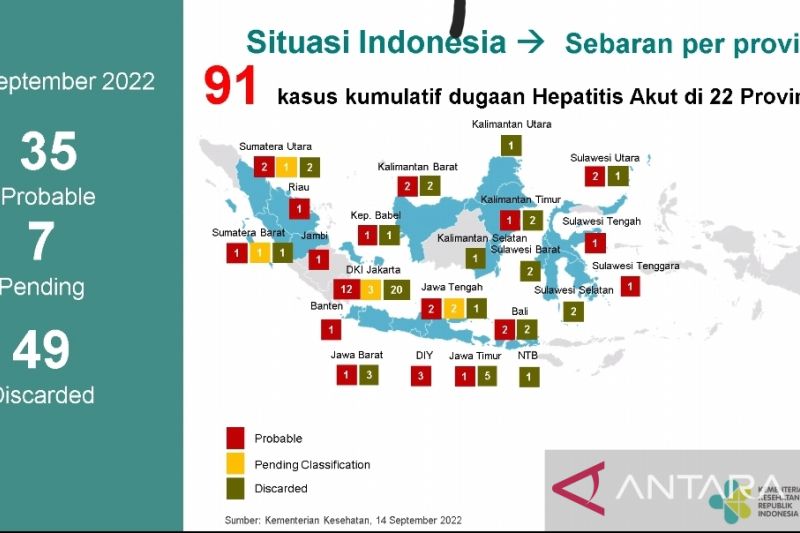 Early detection helps treat the case faster
Jakarta (ANTARA) – The Ministry of Health has detected a total of 91 cases of acute hepatitis of unknown etiology in patients under the age of 16 in 22 Indonesian provinces as of Thursday, September 15, 2022.
"There are 11 patients who have died, or 26% of the total, and 22 patients, or 52.3%, have recovered," health ministry spokesman Mohammad Syahril said during a briefing. online press conference, followed by Jakarta on Friday.
Of the total number of cases found, 35 were probable or suspected cases, 7 were pending and awaiting lab test results, and 49 were discharged because the patients had other illnesses, Syahril said.
Dengue fever cases dominated the discharged cases, followed by bacterial infections, heart disease and leukemia, among others.
Jakarta contributed the highest number of probable cases at 12, followed by Yogyakarta with 3 cases, and North Sumatra, West Kalimantan, Central Java, North Sulawesi and Bali, which reported 2 cases each.
Meanwhile, other regions such as West Sumatra, Jambi, Banten, West Java, Bangka Belitung Islands, East Java, East Kalimantan, Central Sulawesi and South -East Sulawesi have recorded one case each.
Syahril said the patients included 30 men and 12 women, with the dominant age group being zero to six years old.
"Specific symptoms (of a mysterious acute hepatitis) in Indonesia have included fever, nausea, vomiting, jaundice, acute diarrhea and shortness of breath," he revealed.
Although the exact cause of acute hepatitis is not yet known, it can be prevented through early detection of symptoms, he informed.
"Therefore, early detection is necessary. Do not let our children experience more severe symptoms such as jaundice and decreased consciousness. Early detection helps to treat the case faster," Syahril explained.
He said the Ministry of Health has appointed a national laboratory at the Health Development Policy Agency (BKPK) to receive all reference samples from suspected hepatitis patients.
"This national laboratory has prepared the provision of reagents for the detection of hepatitis, namely metagenomic reagents or genome sequencing examinations and PCR reagents, both respiratory and gastrointestinal panels," Syahril informed.
Globally, 35 countries have reported cases of mysterious acute hepatitis to the World Health Organization (WHO), with the total number of probable cases standing at 1,010.
As many as 46 cases, or the equivalent of 5% of cases, have required liver transplantation, and 22 cases, or 2%, have resulted in death so far. Most of the cases, 48% or 484, are from the European region, while the US region contributed 435 cases.
Related News: Commission asks schools to reopen school canteens
Related News: Indonesia records 70 suspected cases of acute hepatitis: ministry
Related news item: Maintaining food hygiene to prevent acute hepatitis: epidemiologist