Mutual cooperation helps avert food crisis in Indonesia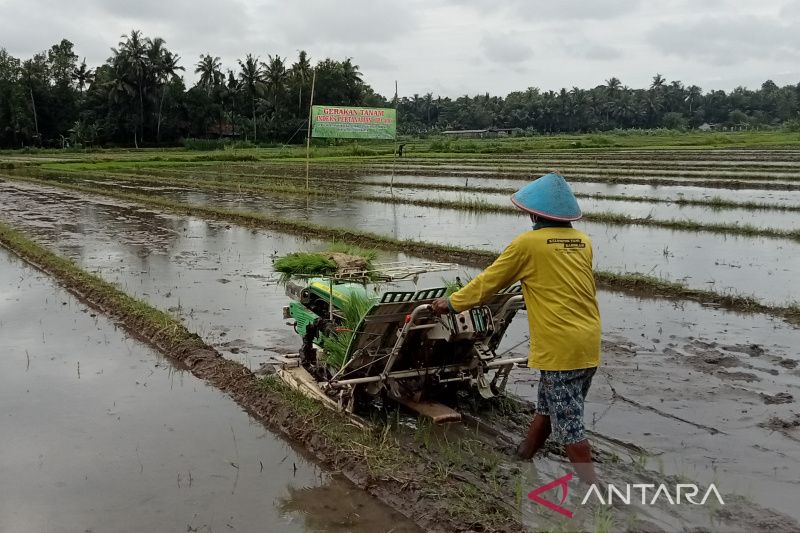 Jakarta (ANTARA) – The ongoing Russian attack on Ukraine, which began on February 24, 2022, has haunted the international community due to factors including the possibility of triggering a severe food crisis that could lead to famine in the world.
The potential food crisis could worsen since several countries depend on essential products produced by Russia and Ukraine, such as Egypt, which still imports 80% of the wheat from the two countries.
Egypt, which is currently also known as the largest wheat importer in the world, needs wheat as a raw material for flatbread for the daily consumption of its citizens. Any shortage of food, especially wheat, could lead the country to serious hunger crises.
Moreover, according to data from the International Food Policy Research Institute (IFPRI), Russia and Ukraine dominate wheat production, with supply reaching 40% of global wheat requirements.
Russia, besides Canada and Belarus, is also a major producer of potassium which is also a raw material for fertilizers in several countries including Indonesia. With the conflict, Russia stopped exporting potassium, leading to higher fertilizer prices in several countries.
Indonesia will also be impacted by this crisis since it still imports wheat and raw material for fertilizers.
Related news: Navigating the food crisis, war
During the National Family Day commemoration in Medan, North Sumatra, President Joko Widodo (Jokowi) said that the price of noodles and bread made from wheat may rise in the near future.
The government has prepared a strategy to prevent a possible global food crisis, in particular through the creation of food domains and food diversification.
Food diversification
The executive director of the Institute for Development of Economics and Finance (Indef), Tauhid Ahmad, believes that dietary diversification is achievable by using sago and cassava as a substitute for wheat.
However, he admits that this program presents challenges because each region of Indonesia has different tastes and daily food consumption patterns. It is difficult to change the habit of eating bread and instant noodles and switch to other food items, he pointed out.
Moreover, the processing of sago and cassava is still limited and people cannot be forced to switch to these two food items in a short time.
To this end, the government must make the most of the local food wisdom that exists in each region and not impose dependency on rice as a staple food.
On the other hand, Professor of the Agricultural University of Bogor (IPB) Dwi Andreas Santosa pointed out that the imports of the eight main products imported by Indonesia during the period 2011-2021 increased by almost 20 million tons.
Related news: G20 countries working together to manage the global food crisis
Santosa, at the same time general chairman of the Indonesian Association of Seed Banks and Agricultural Technology (AB2TI), said the condition has reduced the welfare of domestic farmers since the government's food development program focuses only on the consumers and not on the producers.
The government should focus more on the welfare of small farmers because with the increase in the welfare of farmers, food production will automatically lead to lower imports.
Mutual cooperation
However, in the midst of all these obstacles, mutual cooperation, as an Indonesian culture, can become a solution to anticipate food crises.
Agriculture Minister Sahrul Yasin Limpo called on all parts of local governments, including farmers, to participate in anticipating the global food crisis, through measures such as increasing national food stocks.
On several occasions, President Jokowi has also urged the public to plant various types of food crops on abandoned land to mitigate the negative impacts arising from the disruption of the global food chain.
The community, for example, is invited to plant fast-growing food products, such as cassava or maize, to support food security.
The government has also established food estates to maintain long-term food security. Food domains are based on a concept of food development that is implemented in an integrated manner, including plantations, agriculture and animal husbandry, in several domains.
Currently, there are several food areas in Indonesia, located in North Sumatra, Central Kalimantan, East Nusa Tenggara and South Sumatra.
Related News: Indonesia to raise food issue at G7 summit for partner countries
food cooperation
The National Food Agency (NFA) also held an inaugural coordination meeting with 514 cities and districts from 34 provinces to strengthen collaboration on food stability in producing and consuming regions.
The AFN will focus on inter-institutional cooperation, food availability and stability, food and nutritional insecurity, diversification of consumption and food shortage.
This program aligns with President Jokowi's mandate to produce eight strategic foods – rice, cooking oil, granulated sugar, shallots, large chili peppers, cayenne pepper, broiler chicken and chicken eggs – as stipulated in Presidential Regulation number 66 of 2021.
Currently, NFA is focusing on local food availability and distribution to be evenly distributed across all regions. The Food Agency will coordinate producing regions with consuming regions through cooperation between institutions, regions and the Ministry of Transport.
Related news: Indonesia builds food resilience to anticipate global crisis
According to NFA Chief Arief Prasetyo Adi, the public should be grateful that amid the food crisis in several countries, Indonesia has been able to meet its own food needs and even export strategic food items, such than chicken eggs, to many neighboring countries.
This can be achieved due to the wide availability of chicken eggs in Indonesia through coordination among all parties to achieve national food security.
Similarly, Finance Minister Sri Mulyani said at the 2022 Securitization Summit in Jakarta that Indonesia's food security has been secure for three years.
The minister explained that over the past three years, Indonesia was still able to meet its needs at a time when various countries were experiencing significant spikes in food prices.
Mulyani also said Indonesia's food security is secure in terms of producing rice and other food products for both export and domestic needs. She pointed out that amid the current global geopolitical situation, the government has continued to enhance food security by collaborating with various parties.
By preserving the culture of mutual cooperation in handling food issues, it is hoped that in the future, the people of Indonesia can come together hand in hand to avert a possible food crisis that may negatively impact the country.
Related News: Minister predicts 20% increase in global food prices by end of 2022
Related news: Indonesia strives to bridge gaps in G20: Minister