PNM PKU carries out a comparative study in Lombok with Mekaar customers – Inforial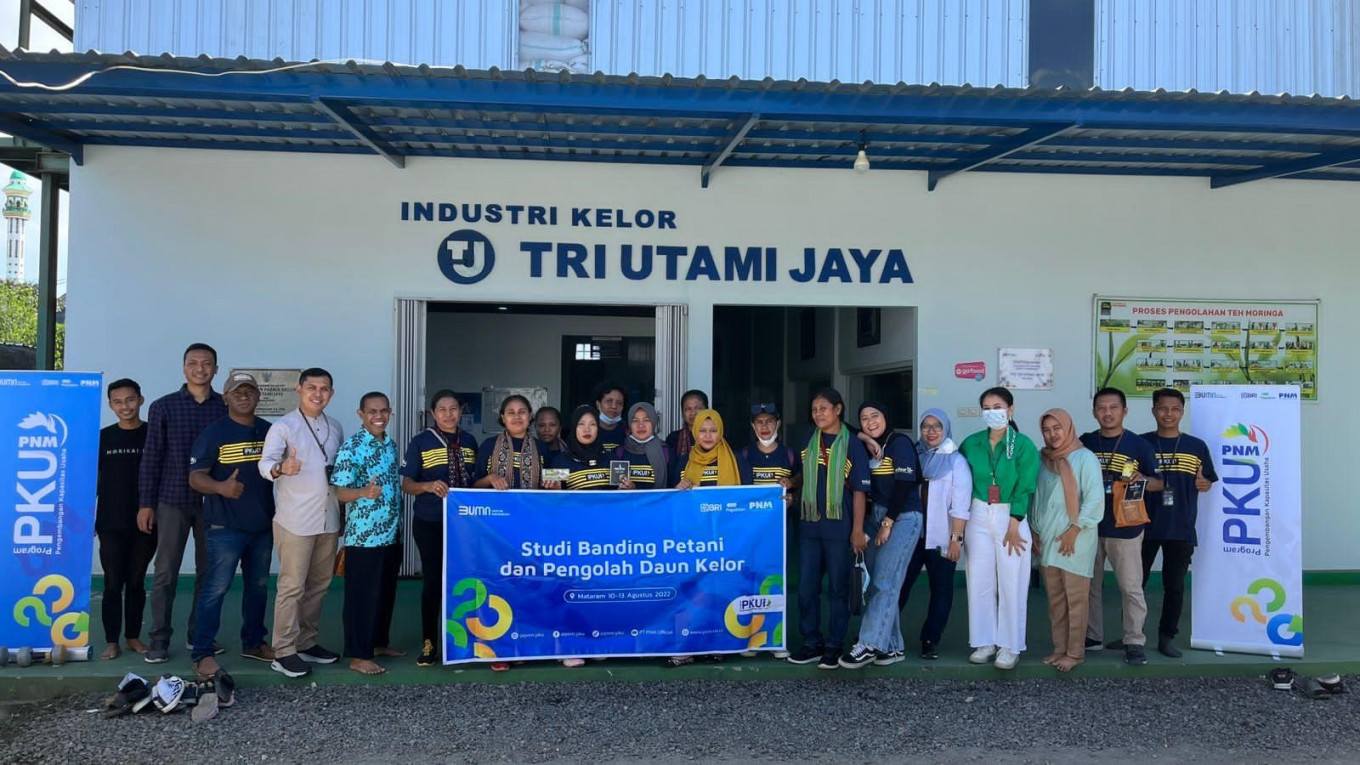 Inforial (The Jakarta Post)
Jakarta ●
Mon 15 Aug 2022

2022-08-15
07:00
1
b2587592dd54281f57bdb7dba9109b96
4
Tooltip

Free

PT Permodalan Nasional Madani (PNM), through the Business Capacity Development (PKU) program, conducted a comparative study on kelor (moringa) leaf processing at Industri Kelor CV Tri Utami Jaya in Mataram, West Nusa Tenggara.
Held on Friday, the activity was attended by Darwis Hari Pondang, branch leader of PNM Mataram, and owner of CV Tri Utami Jaya Nasrin.
PNM invited PNM Mekaar clients who worked as moringa leaf growers and processors to learn entrepreneurial vision and business management capacity, as well as business efficiency, including developing other potential alternatives.
Products derived from Moringa leaves were chosen by the Minister of Cooperatives and Small and Medium Enterprises (SMEs), Teten Masduki, as the official souvenir of the Group of 20 forum.
"I hope this product can go international," Teten said.
For PNM, the activity was a way to follow the evolution of its clientele, to maintain and retain its clientele and to be proud to be a client of PNM Mekaar.
The study was conducted from August 10 to 12, with participants from several PNM branches: two PNM Kendari clients from Mekaar Tinanggea and Kendari units, five PNM Denpasar (Kupang) clients from Mekaar Maulafa unit and two PNM clients Pati of the Mekaar Kunduran unit. A total of 10 PNM Mekaar customers participated, as well as a companion from their respective regions.
Darwis said the training event was one of three assets provided by PNM to its clients.
"In supporting the growth of ultra-microenterprises and MSMEs, PNM provides three types of capital, namely financial, intellectual and social. This benchmarking activity is intellectual capital in the form of mentorship training from the PKU Division program," he explained.
On the first day, PNM Mekaar customers were invited to visit the Nasrin Moringa Garden, located on Jl. Raya Penuja Batujai Bypass. Clients learned how to sow and plant properly, using polythene bags, and received additional information on using water hyacinth plants as compost.
On the second day, customers learned about the moringa industry, especially the Nasrin-owned moringa factory located on Jl. Sakura in Mataram. At the factory, customers learned the production process of moringa leaves, including drying, storing the dried leaves at a certain temperature, grinding the leaves into powder, and packaging moringa products, at namely moringa tea and coffee.
Nasrin also explained the various health benefits of moringa leaves, including helping the immune system, improving heart health, and lowering cholesterol.
According to Nasrin, each of his children already had their own business linked to Mr. Nasrin's resume. He noted that regeneration was very important in order to preserve the benefits of moringa.
Nasrin's child-owned businesses produced packaged moringa drinks and provided raw materials for cosmetics. Nasrin's life motto is: "The globe is not as wide as moringa leaves, but moringa leaves will become global".
Ika Sutiyatin, a client of PNM Kendari, expressed great satisfaction with PNM's comparative studies program.
"I learned a lot about moringa leaves. Previously, we only made moringa leaves. We now know that moringa can be made into tea, coffee and other products. Thank you PNM.
As of August 9, PNM had distributed Rs 134.25 trillion in funding to 12.39 million PNM Mekaar customers. Currently, PNM has 3,500 PNM Mekaar Service Offices and 688 PNM ULaMM Service Offices across Indonesia serving MSEs in 34 provinces, 422 regencies and cities, and 5,640 sub-districts.