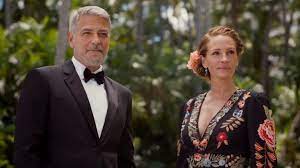 "Ticket to Paradise" is a "Bali-themed" Hollywood movie set to hit theaters later this year. Featuring Oscar winner stars Julia Roberts and George Clooney in the lead roles in a romantic comedy set on the island of Bali but shot entirely in Queensland, Australia during the height of the Covid19 pandemic.
A light story, the film "takes off" on a transpacific flight to Bali with two divorced parents on board. The estranged parents, played by Clooney and Roberts, trade barbs while plotting how best to derail their daughter Lily's upcoming Bali wedding to her new love interest, a local Balinese, Gede.
The story unfolds as the main characters, played by Clooney and Roberts, plot and conspire to ensure that daughter Lily never marries and repeats the mistake they made 25 years ago.
The film also stars a 25-year-old Golden Globe nominee American actress Kaitlyn Dever as Lily and 29-year-old Indonesian actor Maxime Bouttier as the future son-in-law.
Asked why a film about Bali's history was shot in Australia, Indonesian Minister of Tourism Sandiaga Uno recounted how many production houses approached her ministry asking for support for filming in Bali.
Filmed between November 2021 and February 2022, the Production "Ticket to Paradise" asked Sandiaga for help. "At that time, I told the production house that I was ready to facilitate the film in terms of visas and filming permits. But due to the current state of COVID-19, I had to follow the decisions of the National COVID Task Force," Sandiaga explained on Monday, July 05, 2022.
Despite the resulting need to shoot a film about Bali in a location other than Bali, Sanidaga says Indonesia has always benefited from production that promotes Bali as a tourist destination. Adding: "We have benefited from the promotion of Bali and the promotion of our main tourist destination. Bali needs a boost to increase the number of tourists.
The Minister of Tourism hinted at the benefits Indonesia gained for other films using Bali as a location, including the Sony Pictures Production (2010) of "Eat Pray Love" which also starred Julia Roberts. After the release of this film, Sandiaga said, interest in Bali and Ubud as tourist destinations increased. "Soon after (the film), tourist visits to Bali, especially to the Ubud area, increased sharply. There was a strong interest in food due to the support of events like the Ubud Food Festival .
The need for incentives to attract film projects
Sandiaga admitted that another factor presenting an obstacle to any effort to attract major film productions to Indonesia is the lack of cash incentives sought by major productions to cover the cost of undertaking a project overseas. . It should be noted that many cash incentives provided to production houses are reinvested into the local economy to pay for a wide range of goods and services, including security, catering, public order and cleaning services.
To take advantage of the many financial and promotional benefits brought to a destination by a film project, Minister Sandiaga said his ministry was now focusing on formulating regulations that would provide incentives to foreign production houses willing to carry out film projects in Indonesia.
"I have already coordinated with the Minister for the Coordination of Maritime Affairs and Investment, insisting that incentives are needed for local and international production houses, especially those who bring in large teams who will have a positive impact on the economy by filming in Indonesia," Sandiaga said. The tourism minister said the discussion on how to persuade production houses to shoot in Indonesia would be expanded to include the National Film Board (Badan Performan Indonesia) In coordination with Regional Film Commissions who continuously promoted Indonesia as a filming location.
In conclusion, Sandiaga said, "I hope these incentives can be continued in conjunction with other collaborative steps so that many more international films can come to Indonesia and become a promotional opportunity for the tourism and entertainment sectors. 'creative economy'.
"Ticket to Paradise" received a $4.92 million grant from the Australian government. The Australian government calculated that the production generated 270 jobs and $36.2 million in revenue for the local economy. Filming was done on the Whitsunday Islands and the Gold Coast near Brisbane. When Covid-19 cases in Queensland peaked in January 2022, production was temporarily halted until the number of coronavirus cases moderated.
The Universal Pictures production "Ticket to Paradise" will premiere in Australia on September 15, 20222 and in the UK on September 16, 2022. The US premiere will be on September 30.
The film is being considered for a world premiere at 79th Venice International Film Festival (August 31 – September 10, 2022).