Rismaharini visits flood victims and provides aid in West Lombok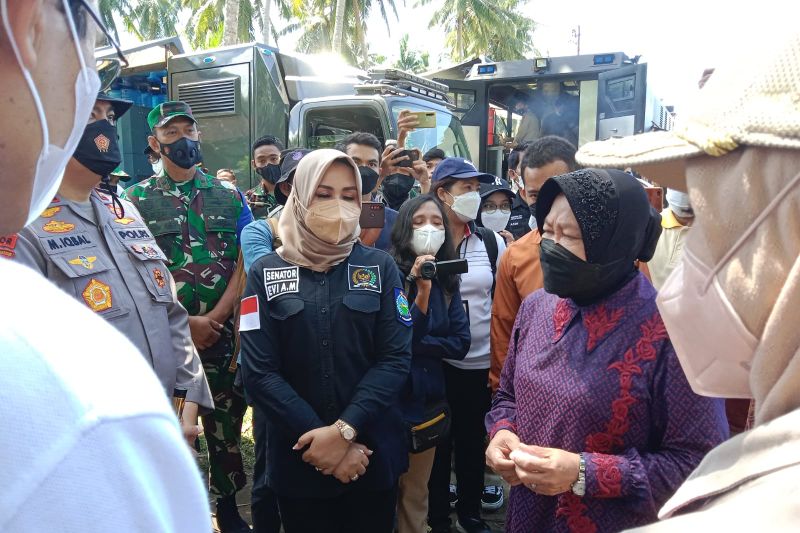 The total value of the logistical assistance is Rp 287.72 million.
W Lombok, NTB (ANTARA) – Social Affairs Minister Tri Rismaharini visited flood victims and disbursed aid in Batulayar and Gunungsari subdistricts in West Lombok district, province of West Nusa Tenggara (NTB).
"To manage the impact of the disaster, the Ministry of Social Affairs has deployed personnel from the Emergency Response Unit (Tagana) to assist in the evacuation process, assess the victims and distribute logistical aid", she declared.
Rismaharini also observed the staff-run public kitchen in the courtyard of the Gunungsari Sub-District Community Health Center which had cooked 13,847 ready-to-eat food packages from December 6 to 9, 2021.
Eight evacuation sites have been set up.
In addition, the ministry provided psychosocial support (LDP) services to reduce the psychological burden and post-disaster trauma of victims, especially those from vulnerable groups.
Previously, emergency response logistics had also been disbursed from Lombok City Assistance Buffer Stocks, comprising 650 packs of basic necessities, 50 sets of dishes, 50 sets of family kits, 50 sets children's items, 50 sets of kitchen utensils, 40 -tents, 30 mattresses and five velbed units.
Related News: Flood hit three hamlets in central Lombok, NTB
Meanwhile, the additional help provided directly by the minister included 500 sheets of sarong, which is a large cloth often wrapped around the waist; 200 pieces of children's toys; 300 packets of snacks; 420 packages of cookies; 200 packs of children's diapers and medicines.
"The total value of the logistical assistance reached 287.72 million rupees," she noted.
In addition, she gave compensation to the heirs of the five deceased victims. Each heir received 15 million rupees.
In addition, compensation in the amount of Rp 5 million per person was paid to seriously injured victims, bringing the total compensation paid by the ministry to Rp 80 million.
Flooding in West Lombok district was caused by heavy rains that fell on December 5, 2021, starting at 2 a.m. Central Indonesian Standard Time.
The disaster left five people dead, damaged hundreds of homes and affected more than 20,000 people in Gunungsari, Lingsar, Sekotong and Batulayar sub-districts in West Lombok district.
Related news: Flash floods submerge two villages in Kapuas Hulu, West Kalimantan