Sumatran elephant found dead in East Aceh: police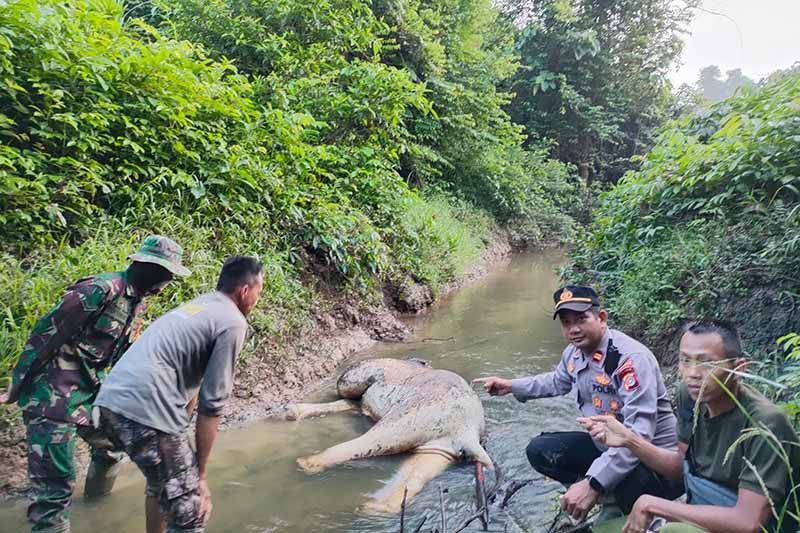 Banda Aceh, Aceh (ANTARA) – A male elephant was found dead in a river in Rabung Lima forest area, Peunaron Lama village, Peunaron sub-district, East Aceh district, according to Serbajadi police bureau of the East Aceh Resort Police (Polres).
Local villagers said the elephant carcass was found on Friday (April 29) around 9:30 p.m. local time, Serbajadi Police Chief Hendra Sukmana said on behalf of the Deputy Chief Commissioner of Police. East Aceh, Mahmun Hari Sandy Sinurat, here Saturday.
"Based on this information, several police officers, personnel from the Peunaron military office and officers from the Leuser Communication Forum moved to the location of the elephant carcass," Sukmana noted.
The dead elephant was found quite far away in an area with difficult terrain, accessible only on foot or by motorbike.
Related News: Ensuring coexistence of people and elephants along the Pekanbaru-Dumai Toll Road
It took about two hours to approach the place by motorbike. In order to reach the site where the elephant had died, officers had to continue on foot.
"Upon arriving at the scene, we found the carcass of a dead bull elephant in the river, with his left leg bearing marks from being hit by a rope," he noted.
Police have secured the location of the dead elephant and are awaiting further action from other relevant agencies.
Related News: More Sumatran elephant rehabilitation center groups needed: Walhi