The image shows the Buddha statue in the Bali dive resort, not the '5,000 year old statue of the Hindu god Vishnu'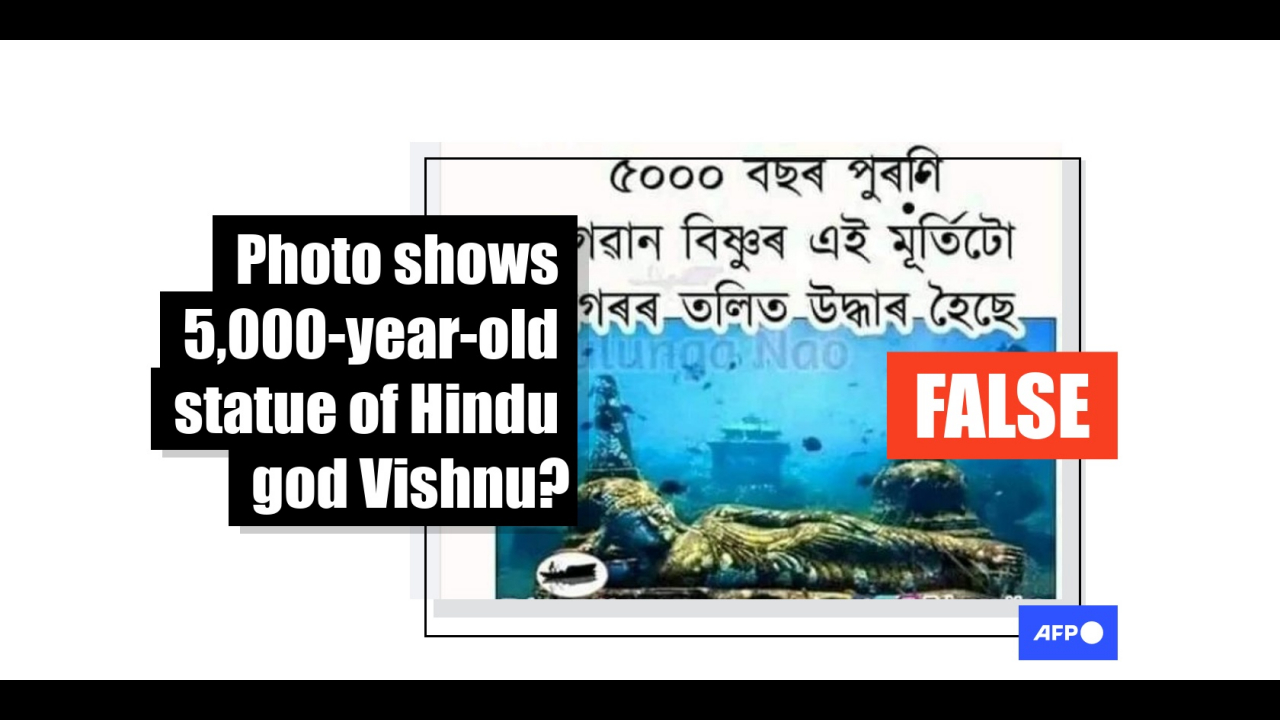 Copyright AFP 2017-2022. All rights reserved.
A photo has been shared hundreds of times in Facebook posts that claim to show a "5,000-year-old underwater statue" of the Hindu god Vishnu. That's wrong: The image shows a sleeping Buddha statue in an underwater park on the Indonesian island of Bali. The owner of the dive center told AFP the statue was bought from a store and placed underwater in 2013.
The photo was posted here on August 5, 2022, where it has been shared over 140 times.
The Bengali-language text superimposed on the image translates to: "This 5,000-year-old statue of Lord Vishnu was salvaged from the seabed."
The post's caption reads, "Don't neglect it."
Screenshot of misleading post, taken September 12, 2022
The same photo, which has been circulating for years, was shared more than 760 times after it appeared alongside a similar claim on Facebook here, here and here.
However, the photo does not show a "5,000 year old statue of Vishnu" – one of the main Hindu deities.
Indonesian underwater park
Combined reverse image and keyword searches found the photo posted on Australian photographer David Lazar's Facebook page on June 22, 2015.
The caption for the photo reads: 'Underwater discovery while scuba diving off the east coast of Bali.'
Further keyword searches found a similar photo on this travel blog which indicates that it shows a sleeping Buddha statue in an underwater park called Suci Place, located at the Matahari Tumbalen Resort in Tumbalen, a village on the northeast coast of the island of Bali in Indonesia.
Komang Suci, the resort's owner, told AFP the Sleeping Buddha statue was one of many religious statues – mostly Hindu deities – at Suci Place, an underwater park created for snorkelers in face of his complex.
Bali is a Hindu enclave in Indonesia, which has the largest Muslim population in the world.
Suci told AFP: "I thought about creating the place because I wanted to make the underwater environment pleasant for beginner divers who trained there."
Suci said the statues were bought from shops around Bali.
"The Sleeping Buddha statue was brought underwater in 2013," she said. "Of course, the statue in our project is NOT 5,000 years old. In this case, the statue would surely be in a museum."
Suci shared a photo of herself with the statue on Facebook here in 2014.
Photos of the underwater park under construction have been published on the station's Facebook page since 2012, for example here, here and here.
AFP has already denied a similar claim about another underwater park in Bali here.