The movie that changed Bali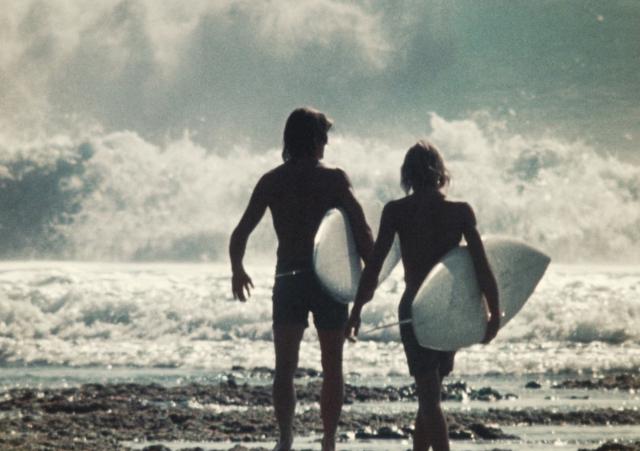 By Phil Jarratt
Fifty years ago this week, the premiere of a surf film at Sydney's Manly Silver Screen would change the lives of many young people, including this writer.
Morning Of The Earth was the feature debut of director Albert Falzon and producer David Elfick, who had raised funds for the production through the success of Tracks magazine, of which they co-owned and for which I was a regular contributor.
I attended the premiere a few days before moving to Canberra to take up a position in the Political Desk of the Sydney Morning Herald. With Gough Whitlam leading Labor for power and promising to end national service conscription (my own deferral from the army for journalism studies would expire at the end of the year), I was excited about the shift to the political vortex, less about the fact that I'd be two hours inland from the nearest surf spot.
Morning Of The Earth drifted dreamily from one surf nirvana to the next with no narration or explanation, powered by an Oz rock soundtrack, but a 15-minute sequence towards the end, set in a little-known point of the Indonesian archipelago, turned out to be a game-changer for me and most of my generation of surfers. I remember replaying the Bali sequence in my head as I drove to Canberra, even though it would take me almost two years to get there.
In August 1969, Ngurah Rai International Airport opened up on a narrow isthmus of land just south of Kuta on the island of Bali, opening it up for the first time to direct international flights. One of the first surfers to fly was Russell Hughes, an Australian champion who had placed third at the world championships in Puerto Rico nine months earlier.
After the world titles, he had apparently traveled to Europe and then to Kabul, Afghanistan, which had become the main source of hash oil. Whether he was carrying a trafficked amount of drugs when he landed in Bali on his way home will never be known, but Hughes, who died in Canada in 2011, still lived the high life despite often having no visible means of support.
When he returned home to Australia he was happy to share the knowledge that there was good surfing in Bali, but became evasive and annoyed when pressed for details, clearly planning a return to his new secret spots. Soon the Surf's Bush Telegraph sent an encrypted message from Russell Hughes that something was happening in Bali.
Only the cool could break the code, and the home of surf cool at the time was the home of Whale Beach, at the tip of Sydney's northern beaches peninsula, where the surf magazine Tracks began to appear in October 1970.
Tracks is the brainchild of architecture student and surfer John Witzig, photographer and surf designer Albert Falzon and music entrepreneur David Elfick. In a loose tabloid newspaper format, Tracks denounced pollution, apartheid and the establishment, and championed pot, sex and soul surfing. It was an instant hit, providing Falzon and Elfick with a platform to raise enough money to produce a surf movie that also broke new ground.
After filming in late summer and early autumn on the New South Wales North Coast and Queensland Gold Coast in May 1971, Falzon watched a rough edit and felt that his film lacked a wow factor. At the end of the year, he should make the obligatory trip to Hawaii for the arrival of the big wave, but some sort of exotic side trip would be the icing on the cake.
Elfick had an idea. Although he is not a surfer, he had spoken to Russell Hughes about his adventures in Bali. Elfick got a deal against the plane tickets and presented the case to Falzon.
Elfick had scammed enough tickets for them to bring their girlfriends, but since there might not be any surfers in Bali, they had to take some talent. Falzon saw particular qualities in a 14-year-old kid from Narrabeen named Stephen Cooney, an exceptionally talented surfer who could paint a sweet little boy one moment and a streetwise bad boy the next. Since they were going into the great unknown, Elfick felt the film needed a father figure to guide young Cooney.
The rock-faced former United States Surfing Champion Rusty Miller happened to live in Byron Bay and travel to Sydney one week a month to sell advertising in Tracks. Miller was only 28 at the time, but he had extensive surfing experience in all kinds of waves, and he was a thinker who occasionally smoked a pipe to emphasize his seriousness. He was the perfect old man of the sea.
When the waves in Kuta flattened out, Falzon and his girlfriend Tanya Binning took a bemo (small bus) to the dusty Bukit Peninsula in search of waves. They were dropped off at Pura Luhur Uluwatu, one of the holiest temples on the island, and slowly made their way along the cliffs, more than 50 meters above the ocean. It was a long, difficult and exhausting hike in the heat of the day, but eventually Falzon saw what he was looking for.
Two days later, on a rising swell, Miller and Cooney watched carefully for some time before descending into the access cave. The tide was low and the waves were huge. Without leashes to tie them to their boards (a luxury whose time had not yet come), Miller and Cooney, man and boy, stood on the reef platform and waited for the waves to crash beyond them. calm down so they can paddle.
Turning from low angle, Falzon saw an image of profound beauty that will stay with him forever, as with so many who saw the film. The two figures were bathed in an eerie yellow light as the waves crashed around them in this remote and dangerous place. It was an image that captured both the excitement and the trepidation of surf exploration, and in the minds of pioneering surf explorers, it was an image that would forever be Bali.
Planet Surf was set for a seismic shift with the release of the landmark film the following year. Falzon adapted its title from Jawaharlal Nehru's 1950 description of Bali as the morning of the world. The filmmakers took as a statement of philosophical positioning a quote from underground film guru Jonas Mekas: "We are the measure of all things, and the beauty of our creation, of our art, is proportional to the beauty of ourselves, of our souls. ".
Thousands of surfers wrote it down or memorized it as they left cinemas and went to travel agencies to book their tickets for the new frontier of surfing. I say. I was one of them.
To celebrate the film's 50th anniversary, Morning of the Earth has been meticulously restored and beautifully remastered from the original 16mm rolls over three years by Santa Barbara surfers and filmmakers Wyatt Daily and Justin Misch. Each of the 150,000 images has been scanned in 4K and undergone a museum-quality digital restoration process. To match the original projection, the film has been graded, stabilized, flicker-free, while remaining true to the director's original vision and 16mm source format. The soundtrack has also been remastered for a completely revamped experience. According to Albert Falzon, "It looks and sounds better than ever".
The remastered Morning Of The Earth will be screened at J, Noosa Junction at 6pm on Friday March 11 as part of the Noosa Festival of Surfing. Tickets at noosafestivalofsurfing.com