Tourism Awareness Groups Face Human Resource Development Hurdle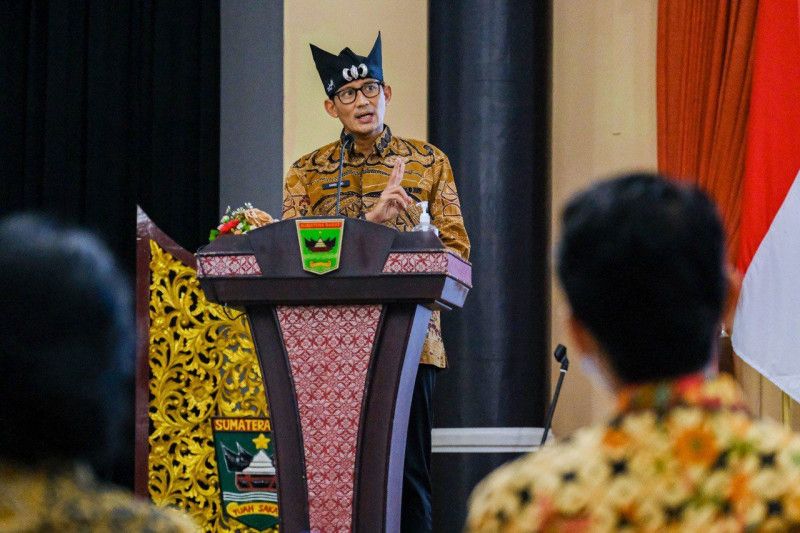 The realization has a very important impact.
Jakarta (ANTARA) – Minister of Tourism and Creative Economy Sandiaga Uno has noted that human resource development is one of the obstacles faced by many regional tourism awareness groups (Pokdarwis).
Therefore, the ministry will add village institution as a new category in the 2022 Indonesian Tourism Village Award (ADWI) competition to encourage tourism human resource development, he said during an audience with a number of Pokdarwis in Padang City, West Sumatra Province, cited in a statement received here on Sunday.
"There are plans to improve the management of various village institutions, including the Pokdarwis," the minister said.
On this occasion, he listened to the aspirations of the Pokdarwis of nine districts/cities of the province regarding the development of tourist villages and the creative economy.
He said the obstacles to human resource development will be addressed through collaboration with other stakeholders including other ministries/agencies.
Also, it will invite managers of tourist villages in West Sumatra to participate in ADWI 2022.
Currently, the province has the largest number of tourist villages registered on the official page of the Ministry of Tourism Village Network (Jadesta).
"There are nearly 300 tourist villages (from West Sumatra province) registered in Jadesta," Uno noted.
West Sumatra Pokdarwis board member Yuliza said the main obstacles to enhancing the group's potential were the lack of human resources, tourism facilities and infrastructure.
Therefore, Yuliza expected the ministry to provide various human resource development programs in the province to support the improvement of tourist villages.
Meanwhile, Chairman of Apar Pariaman Tourist Village, Pokdarwis Fadel Muhammad, shared the benefits gained by the community since the village was included among the top 50 tourist villages in 2021 ADWI.
"This achievement has a very significant impact. Community involvement is starting to increase and the activities of micro, small and medium-sized enterprises (MSMEs), especially culinary MSMEs, are starting to revive," he said.
He added that due to this achievement, the government has also put in place supporting infrastructure, such as public toilets.
He nevertheless wanted the development of human resources to continue since it is the most important thing to support regional development.
Related News: Uno stresses the need for continuous HR development
Related News: Tourism Development Must Consider People's Livelihoods