Travel to Bali: the shock of Australian travelers facing the list of services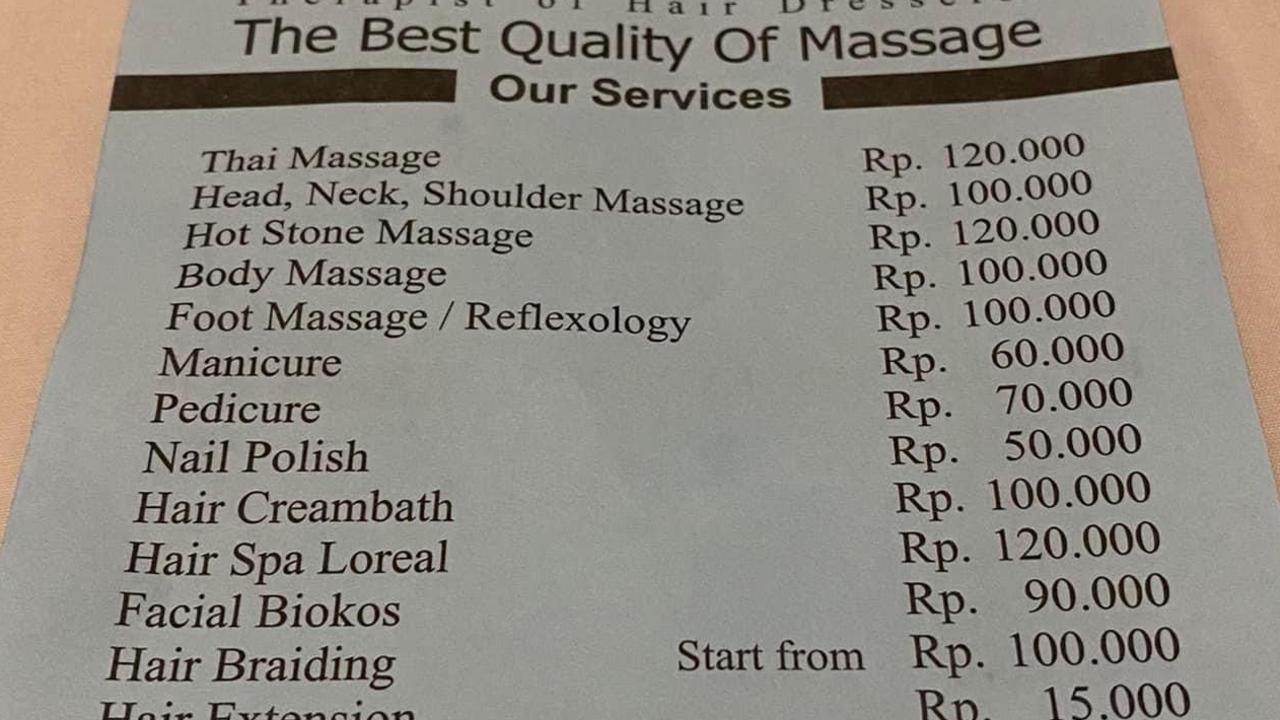 An Australian traveler was stunned by a price list given to her by hotel staff in Bali.
The tourist took to a popular Facebook group for Australians in Bali, called Bali Bogans, to share her bewilderment and demand an explanation.
"I just had my feet massaged in front of our hotel, but can someone tell me what it is," she asked.
She posted an image of a service list from Teratai Spa and Beauty Salon, which has a fairly comprehensive list of massage options, along with a few extras.
The list started off fairly routine, with Thai massage, hot stone massage, foot massage, manicure and facial all included.
However, the tourist has circled a hidden option near the bottom of the list called "ratus vagina", which costs Rp100,000 (A$9.60).
While some fellow travelers couldn't resist the chance to crack a joke, others gave a detailed insight into what the service entails.
The Ratus vagina is an ancient practice of steaming female genitalia which is believed to reduce vaginal stress, help with infertility, help manage the menstrual cycle and also fight a number of infections in the area. .
"I had this done…I was with my soul mate and we laughed all day," wrote one tourist.
"As long as it's not like an ear candle," another commented.
While a third suggested: "Perhaps to get rid of the cobweb?"
Other Australians have insisted the treatment is working.
"It tightens the muscles and cleans you up. Many Balinese do it before marriage and after their period," said a helpful commenter.
"I had this treatment and five other girls too a few years ago," wrote another tourist. "One of the girls had thrush and the usual medications weren't working. The day after the ratus, the thrush was gone.
"So I guess it works. It's just a bunch of weed that they light up and it makes smoke that wafts around your private parts. It doesn't hurt it's not a fire. Try."
For treatment, stones are lit to smolder and smoke, mixed with some herbs at the bottom of a stool with a hole in the center of it.
The customer then takes off his pants and wraps a pareo or towel around his body while he squats or sits on the stool, the steam rises and gives a feeling of heat.
Vaginal steaming is very popular among locals in Indonesia.
In recent years, it has been adopted by some celebrities, including Kourtney Kardashian, Chrissy Teigan and Gwenyth Paltrow. It came after a Goop guide to hot tubs a few years ago praised "V-Steam," even claiming it could rebalance hormone levels.