World ARC visits Indonesia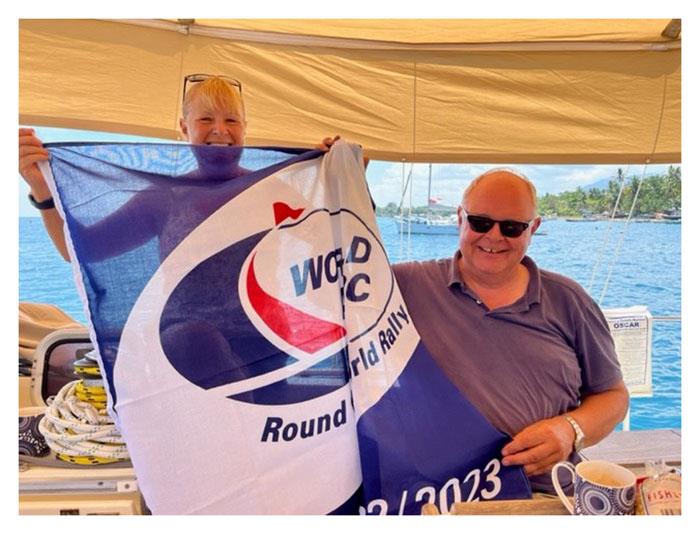 World ARC visits Indonesia
by World Cruising Club Sep 15 08:18 UTC
September 2022
World ARC © World Cruising Club

After the departure of the fleets from Darwin Australia on Tuesday September 6, the first stopover of the second half of their world tour is on the island of Lombok in Indonesia. This island is located east of the most famous known island of Bali.
Lombok is approximately 43 miles wide and 70 miles long with a population last recorded in 2010 of over 3 million. That makes a busy island! However, the pace of life is less hectic than in Bali. The mountainous areas of the island are forested and mostly undeveloped. The lowlands are very cultivated. Rice, soybeans, coffee, tobacco, cotton, cinnamon, cocoa, cloves, cassava, maize, coconuts, copra, bananas and vanilla are the main crops grown in the fertile soils of the island.
The World ARC fleet is hosted in the Medana Bay marina located in the northwest of the island. The anchorages are mainly buoys but the bay is very sheltered and there is also the possibility of anchoring, or a few can moor alongside the wooden jetty. While there, participants have access to all the usual facilities, including an excellent restaurant called Saltfish, where crews are sure to enjoy some sunsets and share their stories of the crossing from Australia.
The World ARC 2022-2023 fleet is made up of 8 boats. 2 boats join the rally in Lombok, Chanto and Nakula. Chanto, a Bowman 48, completed the first half of World ARC in 2019 and we welcome skipper Peter Harvey and his wife Nicky to the rally family. Nakula is the largest boat in the fleet, a Dixon 69, and we welcome skipper Masahisa Saito and the crew of 7 Japanese. The two boats joining Lombok have spent the past two months sailing the beautiful Lesser Sunda Islands and have many stories to share with the rest of the fleet.
The remaining boats in the fleet are due to arrive today and will first be met through customs and quarantine. Following this, they will be cleared by immigration. While in Indonesia, the World ARC program includes an exciting number of activities, including a visit to the oldest and most famous tourist area on the island, Senggigi. Along the way, they will experience bustling market areas, a visit to Batu Bolong Temple and a walk through the Pusuk Pass forest where they will see the local silver known as Pitu. A seafood barbecue lunch will be served on the beach before returning to the marina.
Many other activities will make for a busy but fun stopover in Lombok.